site map: find lots of essays & resource pages
KEY. Letters are dated by postmark. From JAMES; from ORPHA.
Background entries from the Mad in Pursuit journal
6.21.04 Before the Roaring 1920s
6.22.04 1920s - women get dangerous
6.23.04 1920s - the college kids -- their early writing
Introduction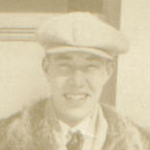 We have a very complete set of letters between Jim's parents. They are literary and passionate -- two smart kids coming of age in the 1920s. The letters deserve to be published. I think they need some deft editing -- a little snipping out where they might ramble on a bit too long. I know they deserve to be put into the context of their times.
James and Orpha met at a Dramatic Club dance on March 31, 1925. He was junior and member of Theta Chi. He claimed in his old age that he knew he would marry her that very night. She was a sophomore who struggled between "sportiness" and "her better self." I know this because she was a tireless recorder of her life. In tiny notebooks and in miniscule writing, she jotted down what she did every day.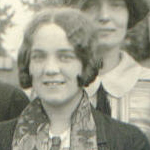 They were at Cornell in Ithaca NY. His family lived on Long Island, in Lynbrook; hers, in Glens Falls, up the Hudson River near Lake George. His family was stern and methodical and could easily trace their roots back to the Revolutionary War. Hers was less traditional. Her father was disabled with bone disease, so her mother supported the family as a private duty nurse. Orpha was a scholarship girl.
They were engaged by Christmas of 1925 and married in September 1926. After James' graduation in June 1926, they each went home to their families. She had to prepare for the wedding. He had to get a job and build them a house. They wrote diligently to each other throughout that summer. Our thought is to post their letters here on the days they received them, starting on June 21 and ending on September 2. It might make for interesting reading but it will also help us look at the letters through new eyes and do a little homework about the 1920s. Maybe the letters will seem hopelessly wordy and the audience will be quickly lost -- but we won't know till we try it.