Postmarked Monday 7.26.26, from James in Lynbrook NY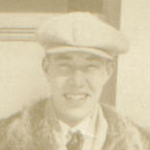 Sunday
Yesterday I dug out two more trees, ceasing operations when it got dark. I had expected to write to you, but there was only life enough left in me to limp up to bed.
This will be a busy week; they all will from now on.
Please donít get a job just to earn a little money. Just come down here, and use what you need from our funds; you couldnít save more than forty or fifty dollars if you worked two or three weeks, and you would just be tiring yourself further.
If I had a home and income to offer you I would come for you now, but the home will not be completed for three months, and there is no income, so it seems quite necessary to wait a few weeks until building is under way and I get something to do in the city.
It is now midnight, and Iíd better get to bed if I am to put in a busy day tomorrow.
There isnít much advice I can give you about things in general; the only way in which I could alter the conditions under which you are living is by taking you out of them into worse ones.
Please see a doctor as soon as you can about the pains you have; if you need money for things like that up there, let me know; if it is to get things in N.Y., wait until you get down here, but above all, try to keep your health up, which means bed by ten oíclock, and a minimum of coffee, aspirin, and arsenic.
James