Postmarked Saturday 7.24.26, from James in Lynbrook NY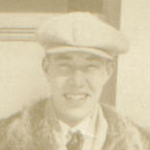 Until dark I have been out digging out another tree.
My father was away for two days; today he returned, and the whole family has gone out to the east end of the Island until Sunday night, so I shall be alone.
Cellar digging has been delayed, but tonight I got a team for next Tuesday.
In the interim there are three trees to get out and the lot and foundation outlines to be measured and staked out.
When you come there will be myriad things to discuss; there are a hundred little changes which might be made in the plans; matters of kitchen arrangement, locations of lights and base plugs, closet arrangements, etc. Several evenings I have spent with the blueprints, measuring and examining; there are innumerable small yet important points to consider; the cellar alone takes more figuring than I thought a whole house would.
Tomorrow morning I must get up early, to get some roots chopped off before the sun is too hot.
Now I am going to bed, to try to rest, to want you, to feel the hollowness for another night.
James