The wedding is a week away. Details overcome philosophy.
Postmarked Tuesday 8.31.26, from James in Lynbrook NY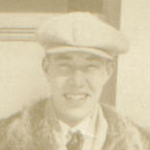 Monday night
A few things which occur to me:
1 – I'll arrive early enough Tuesday to run around to the City Hall; I'm sorry if I've made you trouble finding out about that. It might be well to know just what hours the bureau is open, however. At this point I cannot forbear an outburst of philosophy: In this best possible of worlds, with its highly developed – oh, the inferno with it; I was going to wax wise about the matter of the license. The walleyed nit-wittery of its necessity is too obvious.
2 – My mom wants to know is your mom going to wear a hat? Ask her, so they can have the strength of numbers. I think my mom would just as soon if she doesn't, so if your mom appears to be as if with a secret desire to be hatless, encourage her to bring the secret to light.
My mom wants to know is your mom going to wear a hat?
3 – In the bundle you prepare to take with us, include in the main sports clothes of the hardiest sort; after a couple of days of travel, our sojourn at sundry of our shore front estates will have little to distinguish it from camping out. If you'd like me to tell you what to take, well, it's your blue dress with gold buttons with blue on them and a bathing suit, and the multi-striped shoes which I, in the manner of the proverb, first abhorred, then pitied, then got quite a kick out of.
4 – Tomorrow morning I'm going to N.Y. to interview the president of the pigment factory, to return at noon in time for an afternoon of vigorous hammer swinging.
5 – Today we made quite a little progress; it begins to look as though in addition to that which matters we are going to have a nice looking house.
6 – As you have so perfectly expressed it, words, words, words, words.
James