On the envelope in Orpha's hand: "This letter must never be lost to me." James thought he could do anything, provided he cared to go the extra mile. His engines are all revved up to sweep Orpha into ecstatic immortality, but his Pierce Arrow suddenly has no wheels. He is stalled out in the family real estate office and no amount of wishful thinking will make it go away.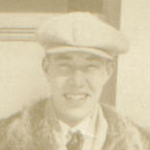 Postmarked Saturday 6.26.26, from James in Lynbrook NY
Orpha — your letter today has in it more beauty than all the beauty in any letters I have ever written. Imperishable beauty; written with fine restraint, more than human patience with my querulous plaints, pervaded by a deep, mature conception of life. Yet I can see that I have almost driven you into the life of speculation that I have lived for so long now; as you speak of a barrier between us I feel that I have cast a chill over you.
I am afraid to release the remnants of the life with a curled lip that I have been living; afraid because I must wait a while before I dare feel as anything but a superficial pose. It is because we must wait for about ten weeks more, while I try to get some money for us to start on.
I always thought I could do almost anything if I really wanted to.
My disillusionment is with myself; formerly I always thought I could do almost anything if I really wanted to. I used to think I could make Phi Beta Kappa if I felt it was worth the sacrifice of the extra study involved. And I used to think I could jump right into life and find something I could do so well that, if I chose, I could make as much money as was worth the sacrifice it took. And here I find myself powerless — starting in at Real Estate — a business neither you nor I like — and not making any money towards the home I want to make for you. And it is this on which I must concentrate, and these petty, glassy-eyed affairs of a world dominated by stupid men that keep me from you.
There is the one extreme — that of waiting until I can come to you some day in a glittering Pierce Arrow, to take you away to an estate whose house is filled with objects of art and luxury.
But it is the other extreme I am fearing —
I am afraid that if I allow myself to feel that you want me as I do you, that you want to give me all of you as I want to cast mind, body, and soul at your feet, I will be unable to keep from coming to you in rags and tatters, to carry you to the midst of a forest, there to exchange the compromise between these two extremes — a lifetime of normal, sober living — for a minute in which the gods would envy us — a minute of complete giving — of immortality — as we knew that the last shadows of misunderstanding between us were gone — that our souls were one — and the tatters fell from our flesh and our bodies were consumed in the flame of passion as they wove themselves together in shuddering harmony — consumed as they conceived a mortal to take their place on earth as they joined the immortal — having attained the supreme greatness they sought —
Orpha — my wife — you know — we will do one great thing in life — we will love — like gods.
James