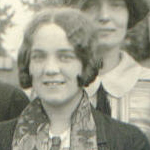 Postmarked Wednesday, 8.25.26, from Orpha in Glens Falls NY
Wednesday
The invitations, which were delayed in coming to us from Schenectady, are off tonight. We noticed that in your list, you did not include Edwin Dooley's name. If he's to be your attendant, he had better be sent one. If he's not to be you may do as you like about sending it and enclosing the reception card. We haven't his address, of course, so we're sending it to you for you to direct, since it should be sent immediately.

Time is nothing and everything to me – I'm living in perpetual motion and incessant unbroken calm. I am stronger than iron and weaker than a jelly-fish. I experience rather the sensations I did when I was almost under ether. More than that I cannot see – your letter came – I read it – it was everything – and yet I shuddered, grew cold and hot. I understood, then pondered as a child. It is tension, awful, awful tension. I dare not speak nor think. I am beginning to be able to sleep almost when I lie down – it is well, for I should be dragged away or destroyed or made by my thoughts and sensations.
The things without names will be so, must be so – I am beginning to understand asceticism, separation from everything – hardness, coldness.
That is all – not now – we must not talk, scarcely breathe. Wait, James, James.
Orpha