James came to Glens Falls for a visit. Apparently there was a little canoodling in the old family homestead...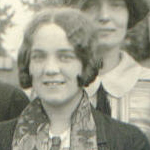 Postmarked Wednesday 7.21.26, from Orpha in Glens Falls NY

At night, after you have gone –
I have sought Sleep – but I have failed. There is nothing in the darkness that has been You for a few short perfect night times. I cannot be full of peace. Before, I had been almost contented with a shadowy vision of you – always in my mind. Now it is not there – for I have known your body – and the absence of you shakes me. I am worn with wanting you, with clutching into the space that last night was your warmness, your flesh, your breathing on me. I have tried to sleep in the bed which you have visited in the morning to wake me – and found only appalling, heavy blankness – but almost, almost you, sometimes when my body and soul cry for you so intensely that I feel no power can keep you from me – then nothing again.
Even the pillow on which your head rested does not comfort me – except to know that once you were near it.
...the absence of you shakes me.
A new need for strength I have – an immediate need – the wearing of this racking emptiness will tire my body out unless I can control the oppressiveness of the emptiness that is here. Before, it was not so – perhaps it is better, for I cannot live long now, James, my James. I must have you, I must have your strength pressing me – not long for I am too tired – the trembling is exhausting, and the pains come too often, James.
Orpha