A brief note from James -- good news and, of course, the longing.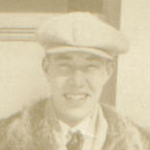 Postmarked Thursday 7.22.26, from James in Lynbrook NY
Wednesday afternoon
The sale was successfully made on Friday; our plans came today; the cellar digger did not; there was plenty to keep me busy; it is hotter than any day yet this summer.
Try to rest all you can; especially avoid the heat; try to find calm and freedom from worry.
There are a few lines from "Ulysses" that I have said over and over to myself for years.

Say them to yourself and see if you feel depth and strength and calm in them. They are enduring.
The sale was successfully made on Friday
The long day wanes;
The slow moon climbs;
The deep
Moans round with many voices
And I am all longing for you.
James