Their letters cross... Orpha is feeling the Santa Ana wind in her soul.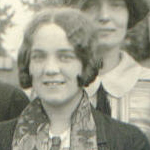 Postmarked Friday 7.23.26, from Orpha in Glens Falls NY

A hollow burning – that eats in and in, that increases with the passing hours, a fire that is fanned by a tireless wind, a restless wind, not for a moment ceasing, but a wind that has not the freshness of a breeze, nor the potency of a tempest – a dull, low moaning wind, that stifles while it blows, or twists in the emptiness, only keeping the spot of red torturing fire alive to gnaw and gnaw.
It is more unbearable – this wanting you – for the heat has made me ill and listless – the pain has grown and does not abate, as the heat did a trifle this afternoon.
Tell me of our Castle that shall be. You are in my dreams and thoughts always – and the dim changing vision of what you are building for us.
Tell me of our Castle that shall be.
Nothing has happened here – only the same sordid, somber dullness and frequent irritable breaks into it – all increased by the things that you have touched – and are not touching now.
Perhaps tomorrow I shall go to a Lake to "wait on tables" for two or three weeks, for a little money. I am not certain yet. If only I could breathe well, and the pain would subside.
Since I have not had a word from you even today – Thursday – I know you must have exerted yourself, that you are fatigued – Rest – and when you find it in your heart, and your weariness is gone – please, oh please, a tiny word to me, James, James.

Orpha