Postmarked Special Delivery Friday 8.27.26, from James in Lynbrook NY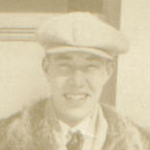 Thursday night
Today I've been in the city, seeing what demand, if any, there is in the commercial marts for such services as mine. Not much happened; I have a possible chance with a company in the pigment business; I interviewed the president for a few minutes and am going to really confer with him sometime next week. He seems a pleasant man to work for. Seriously, I think I might try to get the job; it's two companies, one pigments and the other a mixture for surfacing cement, both owned by a Mr. Hoover, whom I saw today. Could you stand having me in the pigment and cement floor business?
I had dinner and spent the evening with Alf Berle at Kew Gardens – my Junior year roommate.
When I arrived home I was greeted by your lovely present – often I feel ashamed of my unkindness to you, which you forgive and repay with kindness.
Orpha-song, Orpha, will the days never pass? The castle is progressing quite well; perhaps I'll be able to have a job waiting for me to begin on Sept. 20, and we will have over a week away – then a time of rigorous economy and busy working. All will be well.
All that matters to me now is for the seventh to come – for the eternity of aching to have its reward – for us to gain the perfect quietness, and strength, and control, as the song of songs flames through us. Orpha.
James