Orpha apologizes for the "
unintelligible conglomeration
" she sent the other day. She would love to take James up on his romantic invitation to visit Long Island, but she seems more burdened by daily existence than he does. Still, she longs to see him.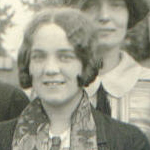 Postmarked Special Delivery Tuesday 7.13.26, from Orpha in Glens Falls NY

By now, you have received the unintelligible conglomeration and can, in a measure understand why the "tomorrow" of my promise receded into the distance while you waited your reply. Perhaps, I, too, felt that I'd like a word from you in answer to the letters that crossed your business letter and the accompanying one. There were many reasons. Perhaps you count some of them worthy -- when I tried to write I could not. I have tried to tell you why – the rest must wait until I see you.
Forgive it all – my delay, my frightening you and all – if you can. You will save all you have written of course? The poem – the last you will ever write?
Perhaps the multiplicity of practical, discussable topics is one reason for my confusion. Everything seems a hopeless tangled maze, which talking with you can alone unravel.
Forgive it all - my delay, my frightening you and all - if you can.
Your letter this morning demands an immediate reply, mainly because I shall be unable to comply with its purpose. I have pondered all day – Mom, Dad and I have talked all the evening, and it still seems to be as impossible for us to make it possible for to me to come to Lynbrook now as before. There are multitudinous reasons (least of all being the apparel which you so thoughtfully solved!) – first, as always the cost, and your suggestion's incompatibility with all our plans. At first we had thought, hadn't we? – that you'd come here in July and I'd go to you in August? We may have amassed a few coppers by that time which are totally absent now – coppers without which I'd be unable to purchase the few things New York would make it possible for me to purchase.
Another reason – by being at present, housekeeper (which, by the way refutes your "easier for your family"). Another – a physical reason. Still another – that Mom is giving this Friday evening a party at which our engagement will be "officially" announced – guests all invited, etc. – Also – that tomorrow Fran & I have been asked on a 3-day camping party at the Lake with several other girls. The last two are trivial, of course. Mom is on a case still, which binds her necessarily to the yoke of labor – so hadn't had a chance for my operation.
Your hope that I'd be able and would wish to accept your plan almost overpowers me, but I cannot, in spite of that, do what is not in any way possible. My desire to see you prompts me to tear off again the little bands of restraint and self-discipline you have taught me to place – I can only beg you, if it is within your power, to come to me tomorrow – or the morrow of your receipt of this. You did not tell me why it is better for me to come there, except as a change for me which, in the same order, it will be for you if you come here – we can discuss the "situation" with the added advantage of a proper perspective. Of course, to you the change will not be a rest, to me it will be Paradise to have you here.
Come oh come – we may even have a day at the Lake if you come soon. I'm "specialling" this extravagantly – hoping it may not be in vain. All of it though, I'm leaving to your solid judgment and saner reason –
Orpha
(I'm enclosing the snapshots I took – you will regret your opposition when you see them. It's only too apparent. Your Mother'd like them. Please give them to her.)