Orpha has finally scheduled the much dramatized tonsillectomy.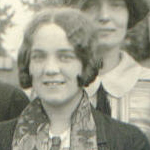 Postmarked Thursday 8.5.26, from Orpha in Glens Falls NY
Wednesday eve.
Tonight Mom and I visited a surgeon. Monday at 3 I've to have the operation. He sees no reason why I should not "come through" normally. Several irregularities in my constitution and physical functioning seem to puzzle him, but he optimistically believes that with the severing of my "bad" tonsils and adenoids they will magically disappear.
Monday at 3 I've to have the operation.
He doesn't explain the pains except as possible results of muscles poisoned by the tonsils. My blood pressure is nearly normal. He promises to take precaution, stimulants at hand, no other cases to tire him, in case of heart flutter or complications. I'm not frightened, of course, nor very nervous. I'm weary tonight, that's all. He nearly suctioned my throat out looking into it – so it hurts now a trifle.
I shall rest a great deal until Monday. If I could make a wish, I'd wish above all things that you might be here this week-end and Monday – or Monday and Tuesday at least – just to be with me, so near me that I could feel your touch – and to hold me now, quietly, for I am tired – but just to have you, you, here – oh, my James – I am trying to be strong – but I want you, James –
Orpha