Mad in Pursuit Notebook
Dunne
Dunne Family of Ballaghduff
The Michael Dunne & Catherine Martin Family
Married 16 Jun 1889 at the Newbridge Catholic Chapel in Mount Bellew, Michael Dunne (abt 1864 - 5 Jun 1942) and Catherine Martin of Rushestown (28 Dec 1866 - 25 Nov 1944) were farmers in Ballaghduff, where about 17 families clustered in two settlements on land owned by the D'Arcys.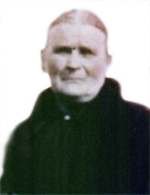 (Read more about the family land>>>)
Lovingly referred to as M'má and D'dá, the Dunnes had 9 children (4 of whom emigrated to the U.S.), 33 grandchildren, 131 great-grandchildren, and upwards of 170 great-great-grandchildren to date. Over 300 descendants since their first child Ellen was born in 1890.
Downloads and options:
Descendants of Catherine Martin and Michael Dunne 20-page PDF, draft 6 Dec 2017. Please contact me with any changes required. If you'd like to see birth and death details included for your branch of the family, send them to me.
Fan chart pdfs (like the one at the top of this page): All-Descendants [high-res jpg]| Bridget Price clan [high-res jpg] | Mary Stephens clan | John Dunne clan | Katie Collins clan | Maggie Hession clan
CHILDREN
All were born in Ballaghduff townland, Parish of Kilkerrin, Shankhill DED, District of Glennamaddy, Tiaquin Barony, County Galway, Ireland
Ellen (aka Helen) "Auntie" Dunne Price (1890-1967)
Ellen left Ireland in 1904 to make a life in St. Louis, Missouri. She married Ernest Price and had one son. Ernest having died in 1946, she made a career for herself at Wagner Electric. [Her timeline and photos]
John Dunne (1891-1972)
John became the proprietor of the family second farm in Cooloo. He married Julia Fleming and they had seven children. [His timeline and photos]
Photo above: Back row: Martin Stephens, Kitty Kilmartin, Michael Dunne, Katie and Peter Collins. Front row: Lil Collins, Mick Dunne, Paddy Collins, Paddy Kilmartin. In Ireland about 1952 [from Paddy and Josephine Collins].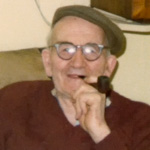 Michael Dunne (1892-1984)
Michael became the proprietor of the original family farm in Ballaghduff. He never married, but became the guardian to Kitty and Paddy Kilmartin after their mother (his sister) became bedridden. [His timeline and photos]
Photo: Michael Dunne 1977, by Kathleen Price.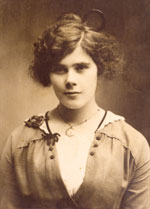 Bridget Agnes Dunne Price (1894-1978)
Bridget emigrated to St. Louis, Missouri, and married Walter Price. They had five children.
[Timeline and photos for her EARLY YEARS]
LATER YEARS
The 1930 census finds them at the house where all the kids grew up: 5642 Theodosia Ave. Also living with them was Bridget's first cousin on her mother's side, John Coughlin (age 30), who had emigrated from Ireland in 1928 and was working as a carpenter. See also Bridget takes charge.
1940. Living in same home, with Walt and the five children Jack (19), Walter "Curly" (17), Bill (15), Pat (9), and Mary Ellen (4). Walt was working on his own as a carpenter at this time. In 1939, he reported that he had not worked any weeks at all. Bridget worked as a cook in a women's club; in 1939, she worked 12 weeks for $60. Jack was doing general office work for a manufacturing company; in 1932 he worked 52 weeks for a total of $600.
After her motherly duties were done, Bridget made a career in fine catering at the toney St. Louis Women's Club on Lindell Boulevard. She continued making her dainty cucumber sandwiches till she was 80. Bridget lived to see the births of all her 27 grandchildren. She died at 84 on 9 May 1978 in St Louis, Missouri.
Mary Dunne Stephens (1896-1981)
Mary stayed in Ballaghduff and married neighbor James Stephens. They had nine children. [Her timeline and photos]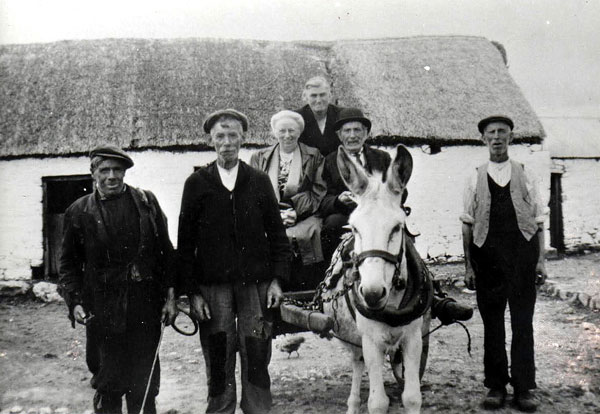 PHOTO: "Here's the masterpiece. I figure he's about 50 yrs old anyway. Front from L to R. Jack Daly, Jimmy Stephens & Paddy Stephens. On the cart, Mary Stephens (Paddy's wife), Julia McKee and John Stephens. The ass looks like he is ready to travel. How about those patches on my dad's pants? Love, Vera" [from Vera Stephens Whelan]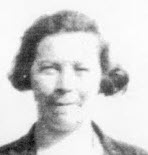 Elizabeth "Lizzie" Dunne Kilmartin (1898-1949)
Lizzie was the star-crossed daughter. After marrying Martin Kilmartin and having two children, she became disabled and bedridden. Kilmartin moved to England, leaving Lizzie dependent on her brother Michael and other family members. [Her timeline here]
[PHOTO: Lizzie in the early 1920s, courtesy of Maura Stephens Arnold.]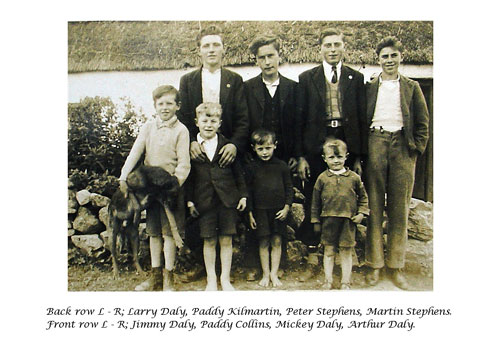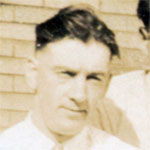 Patrick J Dunne (1900 - 1975)
In his late twenties, Pat emigrated to St. Louis, Missouri. He served briefly in the U.S. Army during World War II. He remained a bachelor till the age of 51, when he married the widow Mary Burke Bauer. [His timeline and photos]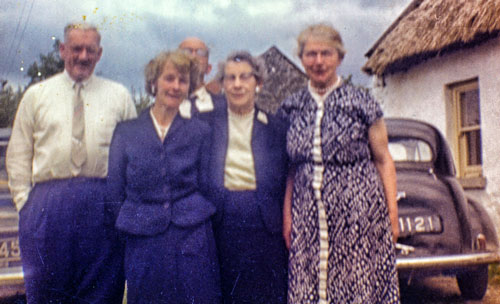 Photos:
(1) Pat Dunne, about 1928
(2) Siblings Pat Dunne, Katie Collins, Helen Price, Mary Stephens, in Ireland, late 1959 [from Maureen Collins].
Margaret Dunne Hession (1902-1982)
Maggie was born on 23 Apr 1902.
In 1927, at age 25, she followed Helen, Bridget and Katie to America. She joined Katie working for Mrs. Johnson at 25 Portland Place. When she arrived, she wrote this letter to herself, which was found among her papers by her children:
31 oct. 1927. Margaret Dunne - Left home on Tuesday morning the 9th August 1927. And sailed from Queenstown on the S.S. Munchen on the 11th of August 1927. Landed in New York on Friday, 19th of August, took the train on Friday evening at 6 o'clock and landed in St. Louis on Saturday evening at 5 P.M. 20 August 1927. Signed Margaret Dunne, Cooloo Moylough.
At the 1930 census, she is working for Minnie Johnson. on 25 Portland Place, St Louis MO, with her sister Katie at her side.
At age 32, on 23 Nov 1934, she married William "Bill" Hession (6 Jul 1906 - 26 Dec 1977) in St. Louis. The Hessions came from the same part of Ireland. Bill's uncle Patrick Hession (1882-1966, Ballyglunin, Abbey Knock Moy, Co Galway) was married to Nora Stephens (1889-1965), sister of James Stephens ( ?-1964), who had married Maggie's sister Mary (above). "Aunt Nora" is a central figure in bringing Galway family members to Chicago.
The Hessions moved to Chicago, Illinois, and had two boys, William and John.
1940 Census. Living at 270 W. 78th St, Chicago IL with her husband Bill and two sons William (3) and John (2). Her brother-in-law John Hession (32) lived with them. Bill Hession worked as a policeman with a packing company, fully employed during the 52 weeks of 1939.
Maggie became a naturalized US citizen on 4 Mar 1943.
Maggie died on 13 Jun 1982, in Chicago.
Photo: Margaret Dunne on her wedding day [from Katie Hession]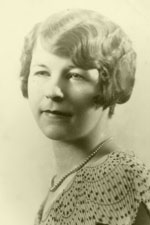 Catherine "Katie" Dunne Collins (1905-1993)
Katie was the youngest child, born on 28 May 1905. Like three of her sisters, Katie took advantage of the opportunity to emigrate, but decided to return home to Ireland.
Her story: She went to St. Louis in 1923 and got a job working as a servant for Mrs. Minnie Johnson. Life with Mrs. Johnson was very privileged. A couple of old photos show Katie traveling in Florida. The one below shows her in golfing togs at St. Augustine. Katie made friends and became engaged to a German-American in St. Louis. But when she decided to return to Ireland for a visit, she fell in love with her family's neighbor Peter Collins (son of Patrick Collins and Bridget Collins; ?-1979) and decided to make her life in Ballaghduff.
The Collins couple had seven children: Norah, Theresa [Davis], Maureen, Lill, Bernie, Michael, and Paddy. Theresa emigrated to the United States and Maureen lived in England, Canada, and the U.S. before returning to Ireland.
Photos: Above, Katie Collins in St. Louis, Missouri, and, below, in St. Augustine, Florida, ready for golf, in the 1920s. [from Maureen Collins]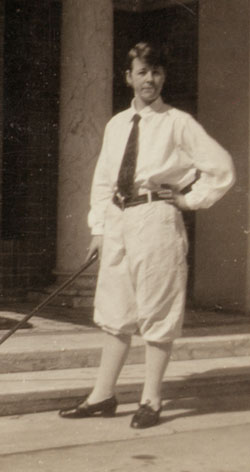 Ballaghduff
Oil painting of half the houses in Ballaghduff, by M. Brennan (1973), from an earlier sketch by Philomena Kelly.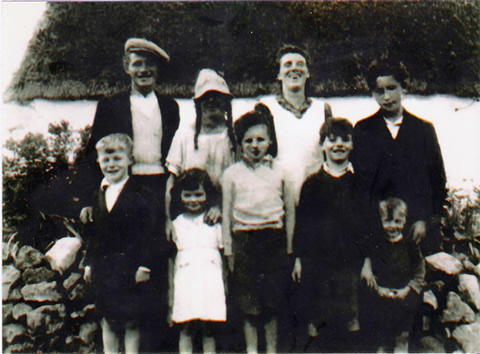 PHOTO: Residents of Ballaghduff, about 1940
BACK ROW FROM LEFT; Larry Daly; Dooley's wife; Bridget Stephens Curley (sister of Peter Stephens who married Kitty Kilmartin); Paddy Kilmartin (Lizzie Dunne Kilmartin's son)
FRONT ROW FROM LEFT; Paddy Collins (Katie Dunne Collins' son); Noreen Stephens [now Divilly] (Mary Dunne Stephens' daughter); Jimmy Daly (STILL ALIVE); unknown; Arthur Daly (STILL ALIVE). Photo courtesy of Lawrie Harding, Sept 2007
12.17.06 (rev 19 Mar 2021)
Notes
Photos. Michael Dunne, with his horse and trap, and Catherine Martin Dunne
See also: Family Freedom Fighters
***
---
Books by Susan Barrett Price:
THE SUDDEN SILENCE: A Tale of Suspense and Found Treasure (2015) Thailand: lovers of ancient treasure tangle with international black markets. Delia Rivera pulls Martin Moon back into the game and their quest turns deadly. In paperback and Kindle editions.
TRIBE OF THE BREAKAWAY BEADS: Book of Exits and Fresh Starts (2011) Time after time, Mary asks herself: Do I go or do I stay? She finds her power in her ancestors: Smart women turn discontent into action. An illustrated memoir in paperback and Kindle editions.
PASSION AND PERIL ON THE SILK ROAD: A Thriller in Pakistan and China (2008) The twin forces of revenge and redemption drive Nellie MacKenzie and Taylor Jackson on a crazed adventure into the heart of Central Asia. They grapple with issues of ethics, trust, rage, and bitter heartbreak -- as well as the intrigue of the international antiquities trade. In paperback and Kindle editions.
Connect:

All pages in this website by Susan Barrett Price are licensed under a Creative Commons Attribution-Noncommercial-Share Alike 3.0 United States License.