Mad in Pursuit Notebook
Dunne
Dunne Family of Ballaghduff
The Michael Dunne & Catherine Martin Family
Married 16 Jun 1889 at the Newbridge Catholic Chapel in Mount Bellew, Michael Dunne (abt 1864 - 5 Jun 1942) and Catherine Martin of Rushestown (28 Dec 1866 - 25 Nov 1944) were farmers in Ballaghduff, where about 17 families clustered in two settlements on land owned by the D'Arcys.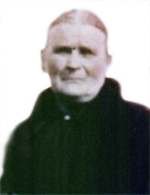 (Read more about the family land>>>)
Lovingly referred to as M'má and D'dá, the Dunnes had 9 children (4 of whom emigrated to the U.S.), 33 grandchildren, 131 great-grandchildren, and upwards of 170 great-great-grandchildren to date. Over 300 descendants since their first child Ellen was born in 1890.
Downloads and options:
Descendants of Catherine Martin and Michael Dunne 20-page PDF, draft 6 Dec 2017. Please contact me with any changes required. If you'd like to see birth and death details included for your branch of the family, send them to me.
Fan chart pdfs (like the one at the top of this page): All-Descendants | Bridget Price clan | Mary Stephens clan | John Dunne clan | Katie Collins clan | Maggie Hession clan
CHILDREN
All were born in Ballaghduff townland, Parish of Kilkerrin, Shankhill DED, District of Glennamaddy, Tiaquin Barony, County Galway, Ireland
Ellen (aka Helen) "Auntie" Dunne Price (1890-1967)
Ellen Dunne was the oldest child, born 12 Apr 1890. We find her first in 1901, staying with her grandfather John Martin in Rushestown [1]
In April 1907, at the age of 17, she left her home and family for America. In the company of her Uncle Michael Martin, she sailed for a week on the RMS Carmania to the Port of New York, destined for the residence of their her Aunt Delia (nee Martin) and her husband Thomas Dunne on 2206 S. 12th St, St Louis, Missouri [3]. Nine other residents of Kilkerrin were also on board, destined for other cities. Ellen had made the trip with $25 (equivalent to about $500 in 2008 dollars).
In St. Louis, she probably got work as a domestic till she married the Ernest Price (1889-1944) in about 1911. Ern was the third son of English immigrants WJ and Sarah Price, Protestant, and a member of the Price family carpentry business. As part of her assimilation, she called herself Helen. Her only child William E. "Sonny" was born 8 July 1912.
In 1914 she sponsored the passage of her sister Bridget to the U.S.
As of the 1930 U.S. census, "Auntie," Ern, and their son were living at 5143 Cote Brilliante. Her brother Patrick J Dunne was living with them.
In 1940, Auntie and Ern were in the same home. At age 51 Ernest was not working; during 1939 he had not worked at all. The Great Depression had destroyed the family business. Auntie was working as a waitress in "private homes"; during 1939, she worked 30 weeks and earned $600. Their son Bill (age 28) worked as a clerk in a grocery store; in 1939 he worked 28 weeks and earned $455. Ernest Price died 4 years later, in 1944.
Auntie died on 19 February 1967, in St Louis, Missouri. Sadly, her only son died in his forties, several years before she did, in 1962.
Child:
William E "Sonny" (1912-1962)
Sonny was born 8 Jul 1912. He married Florence Mogen, whose family also lived on Cote Brilliante.He died of cancer on 26 Jul 1962.
John Dunne (1891-1972)
John was the oldest son, born 22 Aug 1891. As many young men did in those days, John helped the family by working in the English coal mines when they could spare him from the farm.
In 1911, the 20-year-old John was living with his siblings Bridget and Pat at the family's second farm in Cooloo. When the British Black & Tans overran eastern Galway, he joined the IRA to fight for Irish independence.
He married Julia Fleming (abt 1902 - 20 Oct 1950).
Children:
Patrick "Patsy" Dunne (1937-2006)
Lifelong bachelor. Emigrated to London, England. Died 6 Nov 2006.
Michael "Mick" Dunne (1931-2019 )
Wife: Noreen Mullen. Eight children. Mick assumed the work of the farm at Cooloo. Parish of Moylough, Galway
Catherine "Kitty" Dunne Monaghan (1933-2001)
Husband: Jack Monaghan (1921-1979). Nine children. Residence: Parish of Moylough, Galway.
Julia Dunne Furnival
Husband: Steve Furnival. Three children. Emigrated to England; residence: Stoke-on-Trent, Staffordshire
Carmel Dunne Ghee (1946- )
Husband: Mick Ghee. Two children. Residence: Longford, County Longford
Mary Dunne (1943-1952)
Died in childhood.
Sean Dunne (1941-1960)
Died in his teens.
Photo above: Back row: Martin Stephens, Kitty Kilmartin, Michael Dunne, Katie and Peter Collins. Front row: Lil Collins, Mick Dunne, Paddy Collins, Paddy Kilmartin. In Ireland about 1952 [from Paddy and Josephine Collins].
Michael Dunne (1892-1984)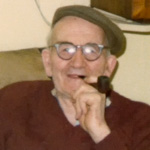 Michael was born 1 Dec 1892 and never married.
As a youth he migrated back and forth to England working as a farmhand [2] and coal miner.
1911 census (age 19): working as a farm laborer in Rixton, Lancashire, England, with his neighbor Thomas Kilmartin.
In the mines, he broke a hip. It had been properly cared for and he recovered. But back in Ireland, during the dark days of marauding British paramilitaries, he was bicycling to Tuam from Ballaghduff when a Black & Tan started riding alongside him and kept bumping him till he fell off and re-broke his hip. He walked with a limp for the rest of his days. While he had been an IRA sympathizer, he wasn't a member. [Story of family's part in the struggle for Home Rule.]
As his parents aged, he took over the management of the farm in Ballaghduff . When his sister Lizzie became disabled, he arranged for her care and became the primary guardian of her two children after she died.
Michael died on 13 Nov 1984, at the age of 92, in the village of his birth.
Photo: Michael Dunne 1977, by Kathleen Price.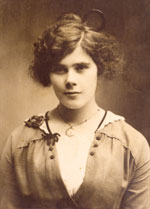 Bridget Agnes Dunne Price (1894-1978)
Bridget Agnes (my grandmother), born on 11 Apr 1894.
At the 1901 census, we find her visiting with her grandfather and uncle in the nearby village of Rushestown. in 1911, she was staying at the farm in Cooloo, with her brothers John and Patrick.
Bridget was the second child to emigrate to America. In 1914, as she turned 20, her sister (then Mrs. Helen Price) sponsored her passage. Leaving from the Cooloo farm at Moylough with her 22-year-old neighbor Katie Murphy, Bridget made her way to the port of Queenstown (now Cobh), where she boarded the same ship as her sister had — the Cunard liner RMS Carmania — and sailed to Boston, arriving on 23 April. According to the ship records, she had $10 to her name. (see Bridget's passage)
Her friend Katie stayed in Boston with her own sister, while Bridget caught the train to St. Louis. In St. Louis, Bridget got to work as a domestic. The January 1920 census shows her at age 25, living at a fine address: 5291 Westminster Place. Along with two other young women, she was employed in the service of George and Gertrude Whitelaw, a young couple with a 2-year-old son Charles.
Her sister Helen provided Bridget with one more thing: a husband. Through Helen, Bridget met Ern's brother Walter. Although Bridget and Walter undoubtedly met shortly after she arrived in St. Louis (Walter and Ern worked together in the family carpentry business), they didn't rush into marriage. Bridget earned an income and (if she's typical) probably sent most of it back to Ireland. And in 1918 Walter went off to war in Europe. They didn't get married till 1920, when Walter was 27.
Their first child Jack was born in December 1920. Altogether, they had five children.
The 1930 census finds them at the house where all the kids grew up: 5642 Theodosia Ave. Also living with them was Bridget's first cousin on her mother's side, John Coughlin (age 30), who had emigrated from Ireland in 1928 and was working as a carpenter. See also Bridget takes charge.
1940. Living in same home, with Walt and the five children Jack (19), Walter "Curly" (17), Bill (15), Pat (9), and Mary Ellen (4). Walt was working on his own as a carpenter at this time. In 1939, he reported that he had not worked any weeks at all. Bridget worked as a cook in a women's club; in 1939, she worked 12 weeks for $60. Jack was doing general office work for a manufacturing company; in 1932 he worked 52 weeks for a total of $600.
After her motherly duties were done, Bridget made a career in fine catering at the toney St. Louis Women's Club on Lindell Boulevard. She continued making her dainty cucumber sandwiches till she was 80. Bridget lived to see the births of all her 27 grandchildren. She died at 84 on 9 May 1978 in St Louis, Missouri.
Children:
John Michael "Jack" Price (1920-1995)
B. 30 Dec 1920. Wife: Lorraine Cronin (1925-2006). 5 children. Residence: St Louis MO. D. 3 Oct 1995. Military
Walter Thomas "Curly" Price (1922-2005)
B. 19 April 1922. Wife: Kathleen Barrett (1925- ). Married: 14 Jun 1947. 4 children. Residence: St Louis MO. Deceased 22 Sept 2005. Military
William James "Bill" Price (1925-2002)
B. 1925 Wife: Teresa Tevlin (1925-2009). Married: 3 Jun 1944. Children: 7 children. Residence: St. Louis, MO. D. 20 Jan 2002. Military
Joseph Patrick "Pat" Price (1931-2013)
B. May,1931. Wife: Mary Ann Levvintre (1931-2015). 6 children. Residence: St. Louis MO. Military
Mary Ellen Price Groark (1935- )
B. 27 Nov 1935. Husband: Thomas Groark (1933-2010). 5 children. Residence: St. Louis MO
Mary Dunne Stephens (1896-1981)
The third Dunne daughter was born on 28 Apr 1896. She was the eldest daughter to stay in Ireland.
She married James Stephens (who died 18 Feb 1964) and joined the enormous Stephens clan. James' sister was Nora Stephens (1889-1965), who married into the Hession family and emigrated to Chicago (see note under Margaret Dunne Hession).
Mary and James had nine children. Five of them established themselves on the home turf: Noreen [Divilly], Martin, Philomena [Kelly], Ellen [McLoughlin], and Gretta [Stephens]. Two sons, Mike and Jack, and two daughters Vera [Whelan] and Mary [Barry] emigrated to Chicago, with the help of Aunt Nora Hession, James' sister (see above).
Mary died at 85, on 7 April 1981.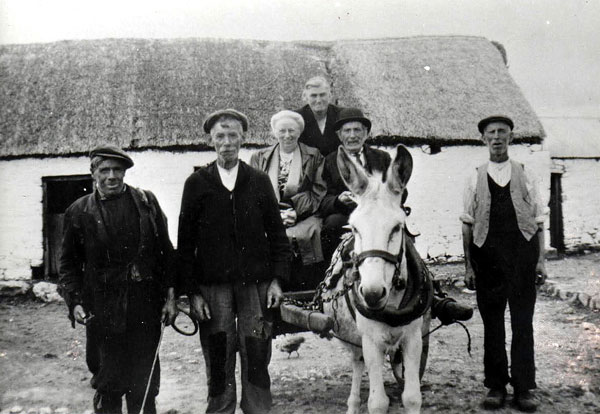 PHOTO: "Here's the masterpiece. I figure he's about 50 yrs old anyway. Front from L to R. Jack Daly, Jimmy Stephens & Paddy Stephens. On the cart, Mary Stephens (Paddy's wife), Julia McKee and John Stephens. The ass looks like he is ready to travel. How about those patches on my dad's pants? Love, Vera" [from Vera Stephens Whelan]
Children
Bridget Veronica "Vera" Stephens Whelan (1920-1999)
Born 9 Feb 1920. Emigrated to St. Louis, Mo, USA in 1939. She worked for Minnie Wooten Johnson on Portland Place till 1948. Husband: Tom Whelan. 6 children. See Vera's passage record (pdf).
Margaret Mary "Grett" Stephens Stephens (1921-2008)
Born 12 Mar 1921. Husband: John Stephens. 2 children.
John "Jack" Stephens (1922-1992)
Born 30 Aug 1922. Wife: Bridie. 5 children. Emigrated to USA; residence in Chicago IL.
Michael Colm "Mike" Stephens (1924 - 2007)
Born 12 Jun 1924. Wife: Julie. 5 children. Emigrated to USA; residence in Chicago IL.
Mary Theresa Stephens Barry (1929- )
Born 1 May 1929. Husband: John Barry. 5 children. Emigrated to USA; residence in St Louis MO
Catherine Philomena Stephens Kelly (1931-2000)
Born 19 Aug 1931. Husband: John Joe Kelly. 4 children. Residence: Parish of Kilkerrin, Galway.
Ellen Rita Stephens McLoughlin (1933-?)
Born 7 Jul 1933. Husband: Patrick McLoughlin. 7 children. Residence: Parish of Kilkerrin, Galway.
Martin Bernard "Matt" Stephens (1935-?)
15 Sept 1935. Wife: Philomena. 5 children. Residence: Ireland.
Nora Virginia "Noreen" Stephens Divilly (1940 - )
Born 13 Dec 1940. Husband: Patrick Divilly. 6 children. Residence: Parish of Kilkerrin, Galway.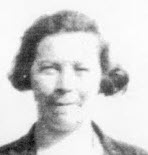 Elizabeth "Lizzie" Dunne Kilmartin (1898-1949)
Lizzie, born 14 Jul 1898, was the star-crossed daughter.
After marrying Martin Kilmartin, she had two children, Kitty and Paddy. When Kitty and Paddy were toddlers (about 1933), Lizzie became pregnant. At the time of her delivery, a problem arose. Her sister Katie hired a car and drove her to a hospital in Dublin. Through their cousin Fr. Tom Hanley, they petitioned the Church to allow her to have a C-section. Despite Hanley's pleas, the bishop insisted that she have a natural childbirth, no matter what the consequences. As a result the baby was lost and Lizzie was paralyzed from the waist down for the remaining 16 years of her life. According to her daughter, Lizzie was able to direct the household from her bed, making the children use mirrors to show her their chores were done. As her brother Michael took over informal guardianship of the children, he arranged for his nieces Vera Stephens, then Grett Stephens to live with them to help out.
Lizzie's husband Martin, remembered as a lovable man, could not cope with the situation and went to live out his life in Birmingham, England. [Source: Kitty Kilmartin Stephens, Paddy Collins, Maureen Collins, Carmel Ghee, Maura Arnold]
[PHOTO: Lizzie in the early 1920s, courtesy of Maura Stephens Arnold.]
Children
Paddy Kilmartin (1927-2006)
Remained a bachelor. Worked the farm in Ballaghduff. (See photo at bottom of page)
Kitty Kilmartin Stephens (1928-2011)
Husband: Peter Stephens. 1 child. Residence: Parish of Kilkerrin, Galway.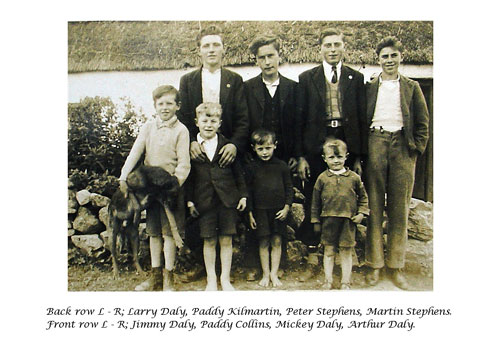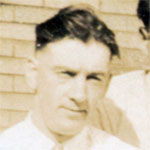 Patrick J Dunne (1900 - 1975)
Pat was the third son, born 12 Feb 1900. In 1911, he was living with his brother John and sister Bridget at the house in Cooloo.
He did his share of coal mining in England, but unlike his brothers, did not become a landholder. He emigrated to St. Louis, Missouri on the SS President Roosevelt, 4-11 May 1928, with his first cousin John Coughlin. On the ship's manifest he is described as 5'10" with fair hair and complexion and blue eyes. [Search process story].
The 1930 census finds him living with his sister Helen's family and unemployed. In 1940, he was still living with Helen. He was working as a laborer for Laclede Gas; in 1939, he worked 52 weeks and earned $1245. Over his lifetime he worked in a variety of jobs, from grave-digger to parking lot attendant.
During World War II, according to his Army Enlistment Record, he served as a Private within the Warrant Officers where his civil occupation was categorized as "Semiskilled linemen and serviceman, telegraph, telephone, and power."
On 7 Apr 1951, he married the widow Mary Bauer (1911-1973), an immigrant from Roscommon, Ireland. They had no children. He always kept a large vegetable garden.
He died on 2 May 1975 in St. Louis, Missouri.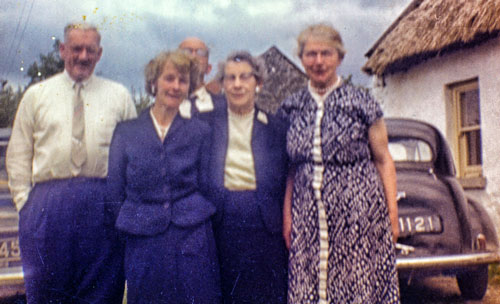 Photos:
(1) Pat Dunne, about 1927
(2) Siblings Pat Dunne, Katie Collins, Helen Price, Mary Stephens, in Ireland, late 1950s [from Maureen Collins]. Click on photo for enlarged PDF version
Margaret Dunne Hession (1902-1982)
Maggie was born on 23 Apr 1902.
In 1927, at age 25, she followed Helen, Bridget and Katie to America. She joined Katie working for Mrs. Johnson at 25 Portland Place. When she arrived, she wrote this letter to herself, which was found among her papers by her children:
31 oct. 1927. Margaret Dunne - Left home on Tuesday morning the 9th August 1927. And sailed from Queenstown on the S.S. Munchen on the 11th of August 1927. Landed in New York on Friday, 19th of August, took the train on Friday evening at 6 o'clock and landed in St. Louis on Saturday evening at 5 P.M. 20 August 1927. Signed Margaret Dunne, Cooloo Moylough.
At the 1930 census, she is working for Minnie Johnson. on 25 Portland Place, St Louis MO, with her sister Katie at her side.
At age 32, on 23 Nov 1934, she married William "Bill" Hession (6 Jul 1906 - 26 Dec 1977) in St. Louis. The Hessions came from the same part of Ireland. Bill's uncle Patrick Hession (1882-1966, Ballyglunin, Abbey Knock Moy, Co Galway) was married to Nora Stephens (1889-1965), sister of James Stephens ( ?-1964), who had married Maggie's sister Mary (above). "Aunt Nora" is a central figure in bringing Galway family members to Chicago.
The Hessions moved to Chicago, Illinois, and had two boys, William and John.
1940 Census. Living at 270 W. 78th St, Chicago IL with her husband Bill and two sons William (3) and John (2). Her brother-in-law John Hession (32) lived with them. Bill Hession worked as a policeman with a packing company, fully employed during the 52 weeks of 1939.
Maggie became a naturalized US citizen on 4 Mar 1943.
Maggie died on 13 Jun 1982, in Chicago.
Photo: Margaret Dunne on her wedding day [from Katie Hession]
Children
William "Bill" Hession (1937- )
Wife: Joan. 4 children. Residence: Chicago IL
John "Jack" Hession (1938-2019 )
Wife: Mary Ann. 4 children. Residence: Chicago IL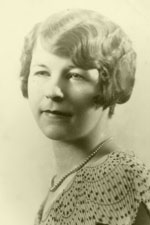 Catherine "Katie" Dunne Collins (1905-1993)
Katie was the youngest child, born on 28 May 1905. Like three of her sisters, Katie took advantage of the opportunity to emigrate, but decided to return home to Ireland.
Her story: She went to St. Louis in 1923 and got a job working as a servant for Mrs. Minnie Johnson. Life with Mrs. Johnson was very privileged. A couple of old photos show Katie traveling in Florida. The one below shows her in golfing togs at St. Augustine. Katie made friends and became engaged to a German-American in St. Louis. But when she decided to return to Ireland for a visit, she fell in love with her family's neighbor Peter Collins (son of Patrick Collins and Bridget Collins; ?-1979) and decided to make her life in Ballaghduff.
The Collins couple had seven children: Norah, Theresa [Davis], Maureen, Lill, Bernie, Michael, and Paddy. Theresa emigrated to the United States and Maureen lived in England, Canada, and the U.S. before returning to Ireland.
Photos: Above, Katie Collins in St. Louis, Missouri, and, below, in St. Augustine, Florida, ready for golf, in the 1920s. [from Maureen Collins]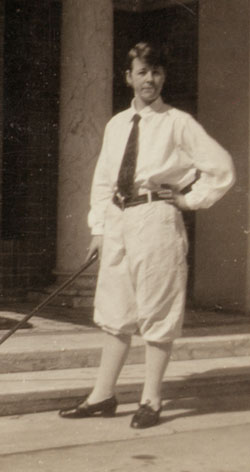 Children
Norah Collins Gilligan
Husband: Frank. 2 children. Residence: Ireland
Theresa Collins Davis
Husband: Joe Davis. 4 children. Emigrated to USA; residence in Virginia. Her passage to St. Louis, Missouri, was sponsored by Mrs. Minnie Johnson, who had previously employed her mother and Aunt Maggie. She was required to repay the price of her voyage through domestic work at Mrs. Johnson's mansion on Portland Place.)
Maureen Collins
Emigrated to England, returned to Ireland. Residence: Mountbellew, Galway.
Lill Collins
Residence: Dublin
Bernie Collins
Wife: Pauline Keating. 4 children. Residence: Dublin.
Michael Collins
Wife: Eileen. 7 children. Residence: Parish of Kilkerrin, Galway.
Paddy Collins
Wife: Josephine. 9 children. Residence: Parish of Kilkerrin, Galway.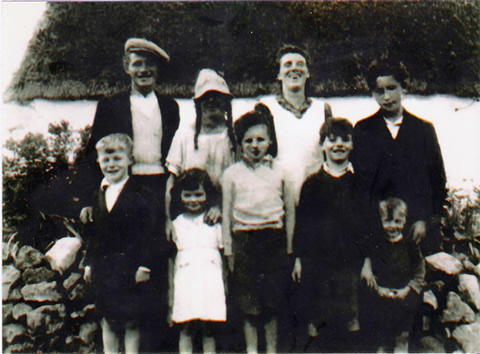 PHOTO: Residents of Ballaghduff, about 1940
BACK ROW FROM LEFT; Larry Daly; Dooley's wife; Bridget Stephens Curley (sister of Peter Stephens who married Kitty Kilmartin); Paddy Kilmartin (Lizzie Dunne Kilmartin's son)
FRONT ROW FROM LEFT; Paddy Collins (Katie Dunne Collins' son); Noreen Stephens [now Divilly] (Mary Dunne Stephens' daughter); Jimmy Daly (STILL ALIVE); unknown; Arthur Daly (STILL ALIVE). Photo courtesy of Lawrie Harding, Sept 2007
12.17.06 (rev 10.21.09, 6/24/13, 5/26/2016)
Notes
Photos. Top: Oil painting of half the houses in Ballaghduff, by M. Brennan (1973), from an earlier sketch by Philomena Kelly. Then, Michael Dunne, with his horse and trap, and Catherine Martin Dunne
[1] Irish Census 1901
[2] Irish Census 1911
[3] Thomas Dunne (born in Rushestown in the same hamlet as Catherine Martin) may have been a cousin of Michael Dunne. His brother Matt received property in Cooloo about the same time as the Martin/Dunne family did. Thomas emigrated to St. Louis in 1896 and married Catherine Martin Dunne's sister Delia. The Irish practiced "chain migration," in which one family member migrated, then sponsored another, who sponsored another, etc. It helped build the immigrant communities. He and Delia sponsored Helen, who sponsored my grandmother Bridget. They remained close and Bridget took care of him during his dying days in 1944.
See also: Family Freedom Fighters
***
---
Books by Susan Barrett Price:
THE SUDDEN SILENCE: A Tale of Suspense and Found Treasure (2015) Thailand: lovers of ancient treasure tangle with international black markets. Delia Rivera pulls Martin Moon back into the game and their quest turns deadly. In paperback and Kindle editions.
TRIBE OF THE BREAKAWAY BEADS: Book of Exits and Fresh Starts (2011) Time after time, Mary asks herself: Do I go or do I stay? She finds her power in her ancestors: Smart women turn discontent into action. An illustrated memoir in paperback and Kindle editions.
PASSION AND PERIL ON THE SILK ROAD: A Thriller in Pakistan and China (2008) The twin forces of revenge and redemption drive Nellie MacKenzie and Taylor Jackson on a crazed adventure into the heart of Central Asia. They grapple with issues of ethics, trust, rage, and bitter heartbreak -- as well as the intrigue of the international antiquities trade. In paperback and Kindle editions.
Connect:

All pages in this website by Susan Barrett Price are licensed under a Creative Commons Attribution-Noncommercial-Share Alike 3.0 United States License.