Mad in Pursuit Notebook
Family Gathering 1928
This photo was legendary among the Prices because of the pouting boys: Curly (my dad), Bill, and Jack Price. And Bridget Dunne Price's notation on the back: "at bottom my three kids I must have belted you all look so sad."
When we finally met our long-lost cousin Mary Coughlin P. at a family picnic (2009?), my uncle Pat Price remembered that this photo also featured her dad John Coughlin. So I dug it out for another look. Someone sent this to Grandma and, late in life, she labeled it: "John Coughlin, Uncle Pat, Pat Dunne, Dad [Walter Price], Uncle Pete. I don't know who wrote this. Uncle Pat was here from Boston, Uncle Pete from Ohio."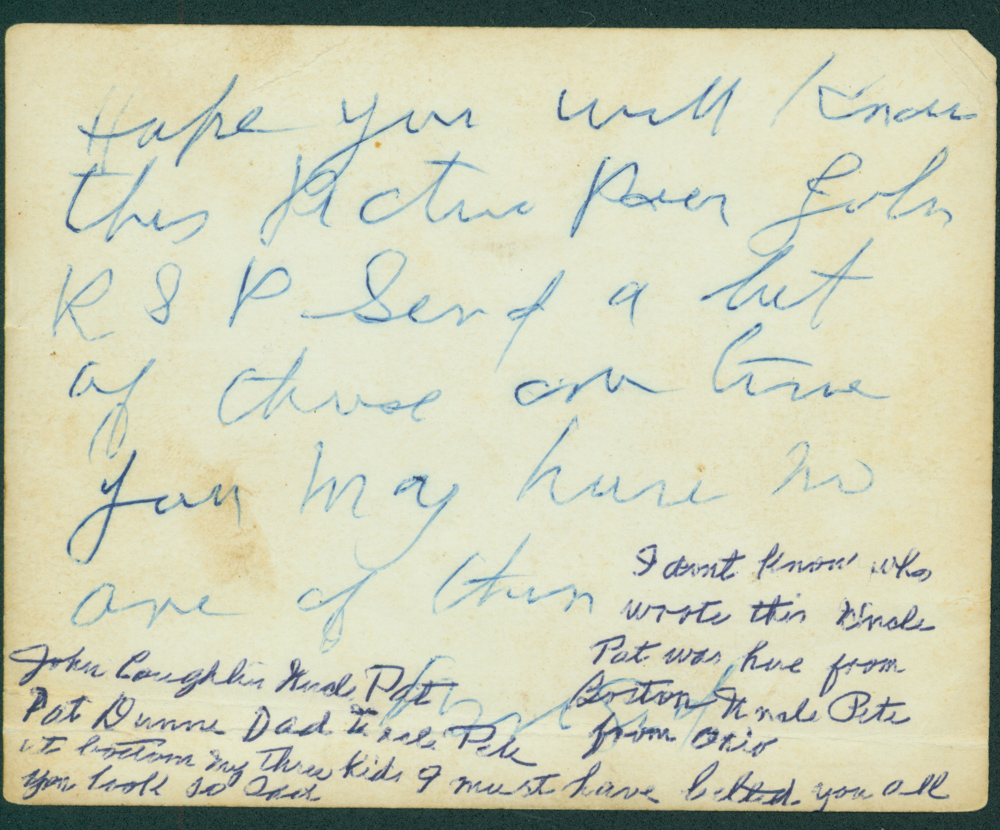 Questions: Who were Uncles Pete and Pat? And why had they made the long trip to St. Louis? And when?
The Occasion
Fast forward to 2012. Updating family history files in preparation for a trip to Ireland. The Dunne family is spread out on my work table. I am still missing Uncle Pat Dunne's passage info. I also see some messages back and forth about John Coughlin's involvement with the IRA before he came to the US.
I look at the photograph again. Yep, the cousins are both there... both immigrants, about the same age, single guys enjoying the hospitality of their relatives. The 1930 census shows Coughlin living with his cousin Bridget Price on Theodosia and Dunne living a couple blocks away on Cote Brilliante with his sister Helen Price. How were the lives of these first cousins intertwined?
I searched for John Coughlin's passage information. There were many results, but near the bottom of the first page was a John Coughlin from Ballygar... near the family farm in Rushestown. Bingo! And there was Patrick Dunne on the line above. Double bingo!! Both were headed for the home of Ernest Price on Cote Brilliante in St. Louis -- Aunt Helen's house.
Tears welled up in my eyes. John Coughlin and Patrick Dunne had set out from Cobh, Ireland on the S.S. President Roosevelt, 4 May 1928, and arrived in NYC on 11 May. No doubt the gathering in the photograph was a celebration of their arrival in America.
My dad was born in 1922 and looks like about 6 in the photo, so that tracks too. My dad would have loved this little discovery and I felt like he was with me.
But the uncles?
The only clue that surfaced about Pat and Pete was scribbled by my dad, in his own early effort to piece together his family and how the names all connected. My dad lists them as Martins, with his line connecting to his grandmother Catherine Martin Dunne. He adds in Delia [Martin] Dunne (who I didn't even notice till today).
In 2012, I believed I had accounted for the Martin siblings--four of them--and no one in Ireland said otherwise. Did my dad know something about how they connected or was he just brainstorming a list? (Unfortunately, subsequent notes were lost when his car was stolen and the thieves discarded the files he kept in his trunk.)
My 2012 searches in Boston and Columbus, Ohio, were hopeless because the names are so common. Maureen Collins did tell me she met "Uncle Pat," but all she remembered was that he had two beautiful daughters, one of them named Elizabeth.
2018, another clue. The Martin archives contain a couple 1909 postcards to Aunt Helen from "Catherine" in Boston...
I just did another Ancestry pass and came up with Peter Martin in Elyria, Lorain, Ohio, born abt. 1857, emigrated from Ireland 1883 or 1885. While my dad specified "Columbus," Elyria caught my eye because I believe that is where Thomas Dunne's three siblings settled. Dunnes and Martins seem to attract one another...
A note: civil registration of births in Ireland was not required till 1860.
Can't think of anything more to add... The puzzles remain.
20 Oct 2009, 8 Apr 2012 (rev. 11 Mar 2018)
***
---
Books by Susan Barrett Price:
THE SUDDEN SILENCE: A Tale of Suspense and Found Treasure (2015) Thailand: lovers of ancient treasure tangle with international black markets. Delia Rivera pulls Martin Moon back into the game and their quest turns deadly. In paperback and Kindle editions.
TRIBE OF THE BREAKAWAY BEADS: Book of Exits and Fresh Starts (2011) Time after time, Mary asks herself: Do I go or do I stay? She finds her power in her ancestors: Smart women turn discontent into action. An illustrated memoir in paperback and Kindle editions.
PASSION AND PERIL ON THE SILK ROAD: A Thriller in Pakistan and China (2008) The twin forces of revenge and redemption drive Nellie MacKenzie and Taylor Jackson on a crazed adventure into the heart of Central Asia. They grapple with issues of ethics, trust, rage, and bitter heartbreak -- as well as the intrigue of the international antiquities trade. In paperback and Kindle editions.
Connect:

All pages in this website by Susan Barrett Price are licensed under a Creative Commons Attribution-Noncommercial-Share Alike 3.0 United States License.