Saturday, 2.11.06: Week In Review
This was a quiet week. Did my workouts, practiced my Illustrator skills, did a little Ebay business, fussed with some financial things (but not taxes). Procrastinated on a few other things on my list.
Friday we went to the Visual Studies Workshop to see an art show by the Evolutionary Girls Club, an international group of artists and activists, "who deal with issues around voice, access and privilege through the making and exhibiting of art." I love mixed media works and certain types of art set me all a-tingle. This one did nothing for me.
Department of shameless self-promotion: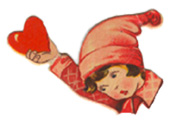 "The Valentine 1955" radio version was licensed by:
Donal O'Herlihy... producer with RTE Radio 1, Ireland's national broadcaster [for] a weekly programme which re-broadcasts the best English speaking radio we can find from around the world and discusses the issues raised by these pieces... With your permission the piece will go out at 11.40 PM Irish time this Tuesday 14th Feb.
And by Public Interactive in Boston:
Public Interactive® represents a network of over 100 public broadcasting stations covering eight of the top 10 broadcast markets, 33 of the top 50 markets and over 250 markets total. Public Interactive is headquartered in downtown Boston with staff outposted at Public Radio International® (PRI), Minneapolis, SCERN, South Carolina, and Oregon Public Broadcasting, Portland.