Wednesday, 2.8.06: Idea vs Execution
I'm in one of those dangerous "why can't I be a cartoonist" moods. Was it the art show we went to last Friday? Is it that the Danish cartoonists have shown us the power of irreverent drawing?
The mood possesses me now and then because I actually can do a little drawing, even though the skill is extremely undeveloped. If I devoted the same amount of time doodling that I do spewing out words, I might get somewhere. (Memo to self.)
Idea. Execution. Which is more important?
Idea. Execution. Which is more important? A profound question. I'm an idea person, so I always think "if you don't have something to say -- a story to tell -- don't waste your time creating eye candy."
On the other hand: The one reality show I've become addicted to is "Project Runway" on Bravo. Ambitious fashion designers compete to design and execute a project every week. The winners manage to balance design and execution. Recently a really creative designer got eliminated because her execution was crappy. To execute a brilliant idea, you have to know how to sew. Craft.
Last year or so (when this mood hit), I did a little sketch in Photoshop. It was meant to be the mean girls' version of "Speak no evil, see no evil, hear no evil." I liked the idea, the design was interesting, and the result was striking. But execution-wise -- well my lines were a little lumpy-bumpy. The original:
Fast forward to yesterday. Everything I read about computer-enhanced cartooning and animation says (in a nutshell): "master the Illustrator pen tool." The corollary is: "Nobody masters the pen tool without tracing innumerable lines."
I pulled out the little drawing because it has simple lines and I sat down to master the Illustrator pen tool.
After six hours or so of mental bronco-busting, I had my result: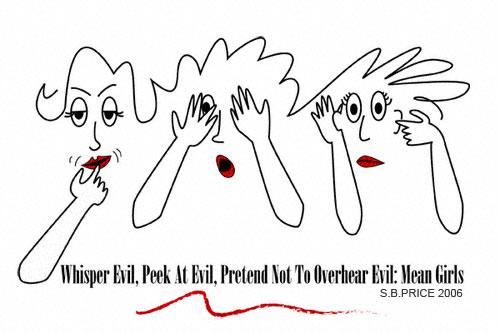 It's not Picasso, but the lines do look more competent.