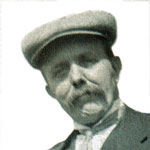 Moses McCarty Flanagan
I first knew Moses by his name -- that seemed to be his most distinguishing feature: Moses McCarty Flanagan, my great-grandfather. In a family full of Toms and Bills and Pats, "Moses" stood out.
But as I've gathered more information about Moses, I find he now is star-crossed. Like his biblical namesake, this Irish Moses led his family to St. Louis but failed to see the promised land.
Shortly after the birth of his seventh child, his wife died of uterine cancer. He saw three of his children die: from an abortion; from a gunshot wound; from complications of diabetes and life in an orphanage. Another child was institutionalized. By the time he died in his early fifties, only his daughter Kitty (my grandmother) was thriving. [Timeline]
Some time ago I wrote a piece on my grandmother Kitty. She suffered so many tragedies in life and yet she always bounced back, always managed to counter sorrow with song. When I was writing her story, I wanted to use it to say something general about the
Irish character. I wanted to say that the Irish could be melancholy, but that good humor and good friends would always transform that sadness.
But then my gaze would shift to her father -- a darker story.
Moses was the son of a cook who worked on the big steamers between Dublin and England. By family lore we know he went to school in Dublin. If we have found the correct record of his passage to America, in June of 1882, at the age of 20,* he took off to find his fortune in America. Listed as a laborer, he traveled steerage class in the Abyssinia, headed for the Port of New York.
He wound up in the Chicago immigrant community and married Maggie Keville. They moved to Edwardsville, Illinois, before they moved to St. Louis and along the way had seven kids. And then everything fell apart. In 1903, Maggie died, with children ranging from 2 to 14 years old.
The story goes that Moses didn't cope well with the situation. His widowed sister-in-law Delia Keville Walsh moved in from Chicago with her own two kids, but that didn't last long. And then there was a step-mother...
The family was permanently destabilized, with the youngest two children moved to an orphanage for their safety.
Moses worked in various aspects of the carpentry business -- for much his career at a planing mill. He worked as a clerk, foreman, draftsman, estimator, superintendent, and salesman. By 1919, he had opened his own business as a carpenter and builder.
On April 16, 1919 -- 2 weeks after Catherine gave birth to twins -- he wrote this rambling letter to her:
My Dear Daughter -- Mrs. Tom Barrett, I was most pleased to receive your letter 4/14 ultimo this month and am most exceeding glad to learn by it that you became the mother of twin sons. And I presume that both of you are extremely overjoyed, and I hope that the Father & Mother of the twin sons and also the twin sons, that is best wish from me to Tom Barrett, his wife and hope it will come to pass.

Again my Dear Mrs. Barrett, I was not sick at all, only in this way. I had a man working for me and while I laid out all the work for him and showed him how to erect it, when I returned after one (1) day and a half, I found that he had all the work spoiled and I remained up three (3) consecutive days which losing so much sleep until 2 o'clock in the morning for several days made me act queerly and sleepy even in cars and traveled too much too far on account of losing so much sleep. I again wish you and your husband, and your babies good luck happiness from Your Father M.M. Flanagan

I am no longer living at 3931 St. Ferdinand. If you want to write again, address as per card & letterhead.
This was his last letter to her and she carefully saved it. In fact, he only lived a few blocks away. It makes me think they didn't see each other often -- perhaps a strain in their relationship. He evidently didn't show up somewhere he was expected and she inquired whether he was sick. If he gave up his apartment to live in his shop, perhaps things weren't going well for him.
The 1920 census reports that as of February 6 Moses was residing in St. Vincent's Institution for the mentally ill, where he died (at the age of 51) on May 6 of that year of "general paralysis of the insane," a central nervous system syndrome that is fatal within 3 years .
NAME (From Irish Names and Surnames, 1923)
MAODHÓG, genitive — id. (the same), Mogue, (Aidan, Moses); a variant of Aodhán, which see. The initial M represents the possessive pronoun Mo, my, prefixed as a term of endearment to the names of saints, while -óg is merely another diminutive termination. Latin — Maidocus.
3.9.05
last updated: 3.30.08
NOTES
Photos: right, as a young man; left below, with brother-in-law Patrick Keville.
MOSES MCCARTY FLANAGAN
Born: Between 1862-1868*, Limerick Ireland, son of Ellen McCarty and [?] Flanagan
Married: Jan 6, 1888, to Maggie Keville, at Holy Angels Church in Chicago IL
Died: May 6, 1920, St. Louis MO
Immigration: [I DON'T KNOW WHERE I GOT THIS INFORMATION... CANNOT CORROBORATE]
Arrival Date: 17 Jun 1882**
Age: 20*
Place of Origin: Ireland
Ship Name: Abyssinia
Port of Arrival: New York

*Census records for 1910 and 1920 indicate he was born in between Feb 6 and April 23 1868. In the 1900 census he claims to be 38, born in 1862. Had he lied about his age in order to book a solo passage to America? It is sad to think of this independent boy finally breaking down and dying way too young.
**Self-report on census data give immigration year as 1875 (1900) and 1876 (1910).
1890 Chicago Voter Registration. 4446 Cottage Grove Av. Residence in precinct - 8 mo; county - 6 yr; state - 6 yr. (Did he live somewhere else between immigration and residence in Illinois?)
1900 Census. 4267 Kossuth Av, St. Louis MO. (Rented) Listed with wife and 6 children. Occupation: Planing Mill Clerk. **Lists arrival date in U.S. at 1875, which would have made him only 7.
1901 - 1902 City Directory
4267 Kossuth
Occupation: Foreman
1903 - 1909 City Directory (no listing in 1906)
4221a Farlin Av
Occupation: Foreman

1910 City Directory
6227 Newstead Occupation: draftsman, 6200 Minerva
1910 Census. 4245 Lexington Av, St. Louis MO. Listed with 2 teenage boys Moses and Joseph. Occupation: Estimator for a Planing Mill. **Lists U.S. arrival date as 1876.
1911
City Directory
4245 Lexington Av
Occupation: Superintendent
Marriage License
14 Feb 1911 Married May Gaines (42 yo)
1912 City Directory
No entry
1913 - 1916 City Directory
4241 Evans Av
Occupation: Salesman
1917 [No City Directory available]
1918 City Directory
3931 St. Ferdinand Av
Occupation: Clerk
1919 City Directory
3931 St. Ferdinand Av
Occupation: Carpentry Contractor, 3837 Easton Av (own business)
1920 Census
listed as a patient in St. Vincent's Institution for the mentally ill [St Charles Rd, St Louis County]