Mad in Pursuit Notebook
Moses Rafael
Moses "Maroney" Flanagan: Irish Gangster in St. Louis
Among the athletes, the warriors, the heroes, and the Easter cuties, every family needs a gangster, an outlaw, a desperado. Yes, we are a dutiful tribe, but hey, we can be bad. And we can't reject our troubled brethren -- they are us.
It was my grandfather Ewald who sat with me at the picnic table in our backyard many years ago and told a rambling story about Kitty Mom's gangster brother and his death on the streets. I was intrigued, but (in the era before online data) I figured the details were lost to history.
But in 2005, my mom's distant cousin and genealogy buddy Rose sent her the Chicago homicide report for Moses Rafael Flanagan, aka Maroney, aka Mahoney. The gangster came alive. [The contents of the report is in the short radio clip above, as well as below [2].]
What was "Mahoney's" story?
"Modie" is the fifth of seven children, born in 1896 shortly before his Irish immigrant parents move the family to St. Louis from Illinois. He loses his mother at age 6 in 1903. He is a handsome little boy, shown here with his dad, the senior Moses. The photo may have been taken in the celebration surrounding the great 1904 St. Louis World's Fair, where his father worked on construction projects.
The family is prosperous enough to own a two-story home. Lore has it that his father Moses suffers a brief marriage with his widowed sister-in-law, who beat the children. Moses ends it.
In 1908, just after Modie turns 11, a fire sweeps through their home and destroys everything. By the census of 1910, his two younger sisters have been placed in an orphanage and the three eldest siblings are out on their own. He is living with his dad and brother Tommy.
In 1911, his father marries May Gaines. That union too is said to be a disaster, but there is no record of what happened..
In November 1912, just before he turns 16, Modie's sister Catherine marries Tom Barrett and is swept up in their grocery business. Four months later, his sister Nellie marries Harry Kraleman, but within a month dies suddenly of a botched abortion. A Coroner's Inquest rules it homicide and the family is deeply rattled. By this time, Catherine is pregnant and gives birth to Modie's niece Mary Margaret shortly before he turns 17.
It wouldn't be far-fetched to suppose Modie suffered from abandonment issues.
***
In June, 1918, when all men are required to register for the draft in the run-up to World War I, Modie (age 21) is residing in the City Workhouse.
This March news article tells why: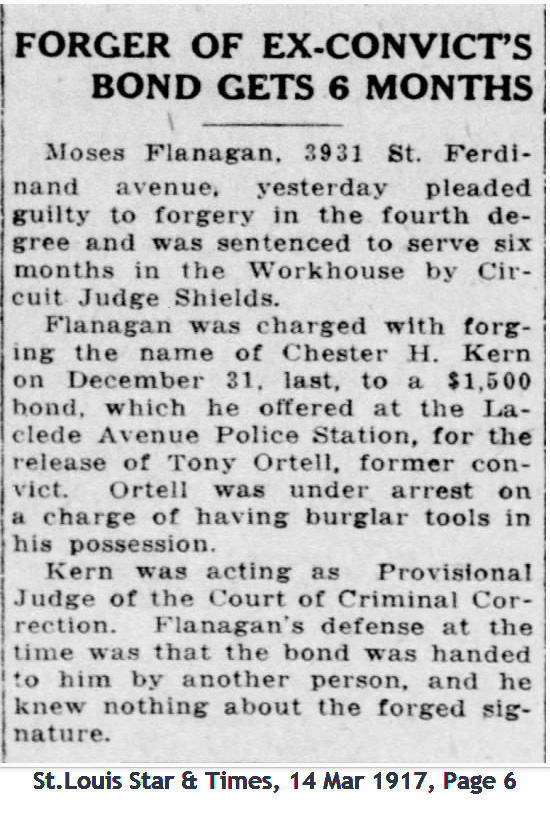 He is not called up for duty.
The following year, he is in trouble again.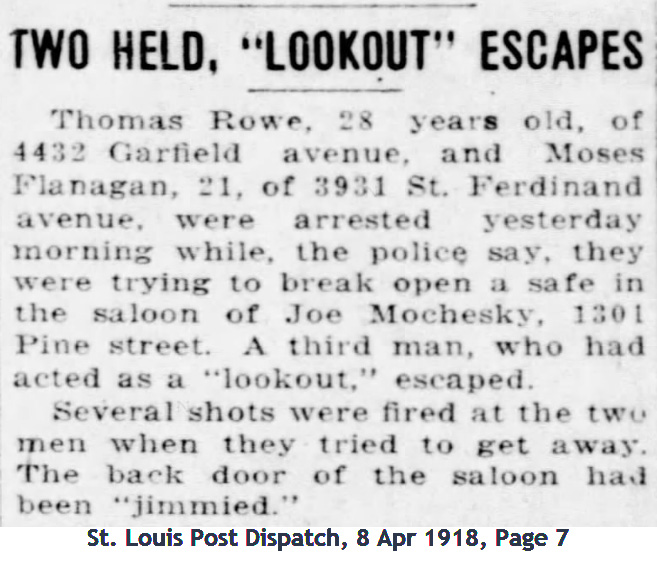 A similar article in the St. Louis Star and Times says he is released on bond.
Next we hear, Moses is dead.
On May 14, 1919, six weeks after Catherine gives birth to her twin boys, her family is notified that their troubled young man has been gunned down. The Chicago Tribune ran this article:
In St. Louis, the family opens their evening paper to read this: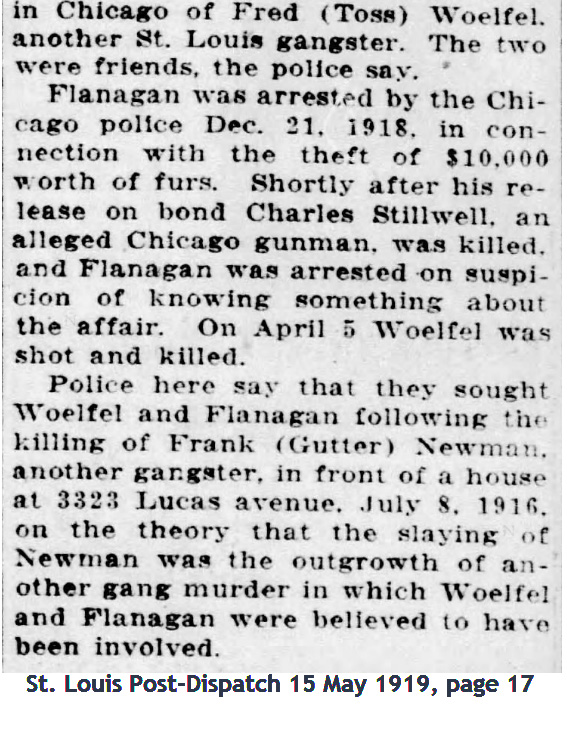 The Chicago police ultimately decide that the murder is related to Prohibition.
In 1919 Illinois lawmakers ratified the Eighteenth Amendment to the United States Constitution, making the manufacture, sale, and transport of alcohol illegal in the state. [Encyclopedia of Chicago History]
Al Capone moves to Chicago that year as gangsters are teaming up with bootleggers and carving out their territories.
Phew. You can imagine Modie being played by Jimmy Cagney in a classic gangster movie.
But there are still a lot of unanswered questions about Modie's life of crime. Which gang was he so loyal to? St. Louis had a couple of notorious Irish gangs: Egan's Rats and their rival Hogan Gang [3]. More research ahead...
Family & Gangsters
The death of young men -- sons and brothers -- is always tragic. And yet we are romanced by our gangsters.
"Maroney's" father Moses McCarty Flanagan was born in Limerick, Ireland, in 1865 and his grandmother was a McCarty. Another Limerick McCarty had a son named Henry, born about the same time as Modie's father. He was born Henry McCarty, but died as Billy the Kid. Were they were cousins?
A while back I read a New Yorker article -- "The Many Stories of Billy the Kid" by Fintan O'Toole. The author had a theory about why there were so many glamorous legends about someone very unglamorous:
The Kid was about 18 when he arrived in Lincoln County [New Mexico]. He was small – about five feet seven – thin, and boyish, with a silky, adolescent fuzz on his upper lip. He looked weak and easy to pick on, and Lincoln County was a place of hard men all too willing to exploit the vulnerable. No one knew much of his past. So he gave himself a new name and invented a life story: that of an intrepid, romantic, daring outlaw, no longer a skinny boy, a man you wouldn't want to mess with.

In an open place like this, where the rich past of the Mescalero and of the Hispanics has been violently erased, there is no history, only deeds. What matters is not who you are but what you do. You take your identity from the places in which you perform memorable actions. You kill a man in Lincoln and you become the Lincoln killer. You survive the massacre at McSween's house and you become the frontier survivor. You escape from the House and you become the great New Mexico escape artist. You are executed and buried at Fort Sumner and the place becomes your homeland.

Henry McCarty left behind the dark history of his family's Ireland, the shame of their famine and exile, and became Billy the Kid. He discarded the complicated religious animosities that for a Catholic convert to Presbyterianism must have been particularly hard to cope with. He invented a new identity, and, when the war broke out around him, he got the opportunity to live up to it.

He may have started out as an Irish cowboy, but he became an American cowboy. For he embodied the greatest of all American paradigms, that of the immigrant making a new life. He discovered that out here, where no one knows you, you are free to invent a life and call it authentic, to spin a story and find that others will tell it for you, to escape from history and enter the vast playground of myth.
As I reread this passage, I think of Moses Rafael Flanagan, a motherless boy reinventing himself as the tough guy Maroney, just like his cousin Billy. Gangs offer a clear "family" structure and a strong identity when one's own family breaks down. Prohibition was rife with opportunity to make a quick buck. And thus, the weakest boys escape from history and enter the vast playground of family myth.
4.12.01 (revised 2.2.08, 5.21.09, 4.23.2017)
Notes
[1] For the basics, check the summary of the Flanagan kids and the timeline of their demise.
[2] Source: Homicide in Chicago interactive database: Moses Flanigan. Discovered by Rose Park.
The Record:
Case Number 3604
Circumstances
Date of offense May 14, 1919
Date of death May 14, 1919
Time between offense and death Immediate - death occurred at the crime scene
Address 1842 Monroe
Type of location Street, or other non-commercial public place/alley
Type of public place Street, sidewalk or alley
Location description in front of address
Type of death Homicide
Type of homicide Intentional murder
Characteristics shot to death
Method of killing Other gun, gun unspecified
Weapon shot to death
Motive shot as he jumped out of an auto containing a number of unknown men with whom he was riding.
Murder/suicide? Yes
Total number of victims 1
Related to Prohibition? Yes
Related to Organized Crime? Murder for hire, "hit"
Victim
Name Flanigan, Moses aka Muhoney aka Muroney
Age 22 years
Gender Male
Race White
Ethnicity Irish
Victim/defendant relationship Not related by family
Defendant
Gender Male
Defendant/victim relationship Relationship Unknown
Police
Precinct 22
Allegations of police corruption No
Legal
Charges against defendant No charges recorded
Type of legal decision recorded None
Allegations of police corruption No

[3] Gangs of St. Louis in American Mafia. Egan's Rats and Hogan Gang.
***
---
THE SUDDEN SILENCE: A Tale of Suspense and Found Treasure (2015) Thailand: lovers of ancient treasure tangle with international black markets. Delia Rivera pulls Martin Moon back into the game and their quest turns deadly. In paperback and Kindle editions.
TRIBE OF THE BREAKAWAY BEADS: Book of Exits and Fresh Starts (2011) Time after time, Mary asks herself: Do I go or do I stay? She finds her power in her ancestors: Smart women turn discontent into action. An illustrated memoir in paperback and Kindle editions.
PASSION AND PERIL ON THE SILK ROAD: A Thriller in Pakistan and China (2008) The twin forces of revenge and redemption drive Nellie MacKenzie and Taylor Jackson on a crazed adventure into the heart of Central Asia. They grapple with issues of ethics, trust, rage, and bitter heartbreak -- as well as the intrigue of the international antiquities trade. In paperback and Kindle editions.
Connect:

All pages in this website by Susan Barrett Price are licensed under a Creative Commons Attribution-Noncommercial-Share Alike 3.0 United States License. [The snowstorm image at the top of this page came from Wikipedia, under a Creative Commons license.]