Head of Household: Ellen Gibbons Barrett
Sometimes you read the vital statistics and the implications don't sink in. Births... deaths... marriages.
Then you go searching for a relative and see a 1900 record "Ellen Barrett - Head of Household." I almost skipped over it because of course she was married to my great-grandfather Frank. But, what the hell, I clicked on the link anyway.
And, oh! There she was. Ellen Barrett - Head of Household. There was my grandfather Thomas (18), his brother Frank (16) and his two sisters Mary (14) and Katie (3). Ellen was a widow, a single mother. And it looks like Tom and Frank were the breadwinners, with Tom working as a shipping clerk and Frank working as an entry clerk. According to my mother, Tom wasn't at all happy with this situation since he wanted to go to school.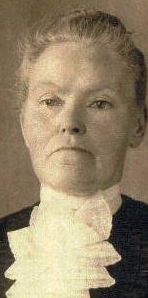 She started her married life with her husband's family in the small Missouri town of Catawissa, where her in-laws were farmers and sold farm implements. My mother has this to say about that situation:
I knew that my grandmother had quite a few miscarriages and I think one died a short time after birth. She told my mother that every time Frank hung his pants on the bedpost she would get pregnant. Also, I think some of the miscarriages happened in Catawissa. She hated the place and her mother-in-law because she made Ellen do chores to save the men and also she had to go sidesaddle to church every Sunday, which she didn't care for.
In the 1890s, they moved to St. Louis, where Katie was born. Did she browbeat Frank in one of those "it's me or your mother" conversations?
Frank died in 1899. According to my mother:
Frank died in St. Louis but was buried in Catawissa. He has a single tombstone there. But Ellen wanted no part of that and had told my father that she wanted to buried in his St. Louis plot.
She died in her seventies but told me when I asked that she was "100 or as old as [St.] Anne." She was found on the kitchen floor by the milk man.
At the age of 78, she died of heart disease [1]. My mother goes on to add:
I think she must have been a very interesting woman. She had quite a few sayings about everything. My main memory of her is sitting her lap in a rocking chair while she would tell stories and sing. Also, coming to our home the night I was burned and staying at the side of my bed.
Ellen was evidently used to farming since she had chickens in the backyard and vegetables.
Another strong woman to add to the family album...
3.4.05 (rev. 8.1.07)
DATA
Name: Ellen Gibbons
Born 1853, Co Mayo IRELAND. Parents: Martin Gibbons, Ellen Welch
PASSAGE
Arrival Date: 25 Sep 1871
Estimated Birth Year: 1851
Age: 20
Gender: Female
Port of Departure: Liverpool, England
Destination: United States of America
Place of Origin: Ireland
Ship Name: City of Brooklyn (Steerage Class)
Port of Arrival: New York
*
1880 Census: not found
1881 Married Francis (Frank) Barrett, about 1881 in Catawissa MO. He died on 3 Apr 1899. Children: Thomas, Francis, Mary Ellen, Catherine.
1896: Moved back to St Louis before the birth of Katie in Aug 1896.
1899: Address on death record of husband Frank, 2217 Chippewa.
1900 Census: Living at 1415 North 7th, St. Louis MO (Third Ward)
1910 Census: Living at 4841a Easton Ave, St. Louis MO, with her children, above the store her son Tom owned.
1920 Census: Living at 4152 Lexington, with 2 daughters - Catherine (working as a stenographer in a dentists office) and Mary (working as a seamstress in a shirt factory).
1930 Census: still on Lexington with her daughters. Catherine (doing steno for an optometrist) and Mary (advanced to "forelady" at a dress factory).
[1] 1931 Died: Sept 12, 1931. Death certificate.
Other relatives: sister Celia or Cecelia (St. Louis?); brother Peter (lived in St. Louis, had 2 daughters). Note from Kathleen Price: "Tom Hynes either a cousin or friend helped Ellen Gibbon when she got here. I don't know whether Chicago or St. Louis but that's who she named her first child for because he was so good to her. I also heard that she had a sister here but that's another mystery."