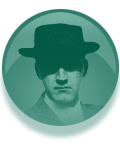 Tom Barrett: The American
Tom Barrett is the grandfather I never knew. He's also the father my mother never knew -- he died of a botched gall bladder surgery before she was eighteen months old.
But as I delve into my grandmother Kitty's history, I get more curious about Tom Barrett. I think of him now as the person who helped Kitty separate from her disorganized family.
Oh, I don't think she was quite a damsel in distress. Before Tom, Kitty was already making her mark in the world -- if you count your own listing in the City Directory as a mark -- with a steady job as an operator with Bell Telephone: a single woman, living on her own.
Tom must have recognized her intelligence, her energy, and her engaging personality and saw her as a perfect partner for his own ambitions. The story is that she was going with his younger brother Francis. Tom gazed at her on Palm Sunday during Mass and thought she stood straighter than anyone else in church. Somehow Francis got squeezed out and Tom pressed Kitty into a quick marriage so they could build their business and keep the Kroger chain out of the neighborhood.
I think of Tom Barrett now as "the American" -- the modern man -- a member of the American culture, not the immigrant culture. He reinvented himself from country boy to entrepreneur.
Tom was the oldest of 4 children, born in Catawissa, Missouri, on his grandparents' farm. His mother didn't like living under her mother-in-law's rule, so at some point between the birth of Mamie in 1885 and Katie in 1896, the family moved to St. Louis.
Tom must have impressed people with his brains because it was understood that he would finish high school and go on to college. But at 17, his father died. He and his younger brother were forced to drop out of school to work.
Photos: top, Tom Barrett's First Communion; bottom, Tom Barrett and Catherine Flanagan, about the time of their marriage in 1912
8.17.05 (last updated:4.11.08)
Thomas Patrick Barrett
Born: 24 Dec1882, Catawissa (Calvey Township, Franklin County) MO
1900 Census: Living at 1415 North 7th, St. Louis MO, with his mother and 3 younger siblings, working as a shipping clerk.
1907 Joined Knights of Columbus.
1910 Census: Living at 4841a Easton Ave, St. Louis MO, with his mother and 3 younger siblings. Tom was a "merchant" running the grocery store downstairs; his brother Francis was employed as his salesman.
1912 Married: 22 Nov 1912 to Catherine Flanagan, St. Louis MO
1913 City Directory: Living at 4152 Lexington Av (which would continue to be his mother's home), St. Louis MO, operating a grocery store at 4841 Easton Av.
1918 Draft Registration: Living at 5900A Cote Brilliante, above their grocery store
1920 Census: Living at 5900A Cote Brilliante, above their grocery store
Children: Mary, twins Bill and Bob, Kathleen
1926 Died: 1 Oct 1926, St. Louis MO, age 43.