Barretts of Catawissa
The Family of Mary Gardiner and Patrick Barrett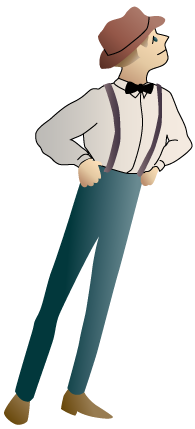 The Barretts are my pioneers. Patrick and Mary are my first ancestors to reach America (in 1847) and the only ones to leave the calamatous St. Louis behind for the frontier of Franklin County, Missouri. They built a log cabin that is still occupied today.
As we piece together their story, we find a family that is ambitious, organized, and hard-working... if, sadly, plagued by untimely death. Their grandson (my grandfather) Tom Barrett dropped out of high school to support his family when his father died. He began a chain of grocery stores in north St. Louis and patented a board game before his own untimely death at the age of 43.
During World War II, 6 of the great-grandsons gave up their lives.
Family Tree: Details about Mary Gardiner and Patrick Barrett and their descendants in Missouri.
Fan chart pdf: Descendants of Patrick & Mary Barrett
Fan chart pdf: Descendants of Thos. & Catherine "Kitty Mom" Barrett
FAMILY NEWS
On 4 April 2008, the Mark Twain Community Resource Center and its Hip-Hop Health Initiative, along with the City of St Louis, celebrated the ground-breaking of the Hip-Hop Garden -- a school-community garden project at Barrett Brothers Park. Part of that occasion was dedicated to the memory of the Barrett family: fallen soldiers, neighborhood grocers, and Irish potato famine refugees.
MEDIA RELEASE: Barrett family history
REMARKS by Susan Barrett Price. For audio remarks by Alderman Jeffrey Boyd, Kyria Virshelle, and Susan Price, click on Flash Player below.
Journal report, 4.10.08