what's it about?
Mary always had a big idea of herself. Ambitious. Inspired by great causes. But she's arrived at a certain age wondering why she's accumulated so many stories about breaking away. The grand exit: I'm outta here!
Mary digs into her history: sometimes she is paralyzed by dangling indecision; sometimes she is marching off into the crazy unknown. Sometimes she is bold and sometimes, timid and ridiculous.
Then other voices demand to be heard -- the voices of her foremothers. They have stories too. And their stories, it turns out, are Mary's power.
Women with moxie turn discontent into action.
author/illustrator
Susan Barrett Price is an independent media producer specializing in short video and radio essays. She wrote the novel Passion and Peril on the Silk Road. Mad In Pursuit has been her workshop since 1999.
Susan is a native of St. Louis, Missouri. She now works out of her studio in upstate New York.
share your gift
Behind the stories of women with the smarts to face the unknown, is the author's message about sharing. Wisdom, laughter and talents are meant to be shared -- sister to sister, girlfriend to girlfriend, mother and aunt to their youngest loved ones. If you agree, you can print the card below on 6x4 photo paper and tuck it inside Tribe of the Breakaway Beads, the next time you give it to someone.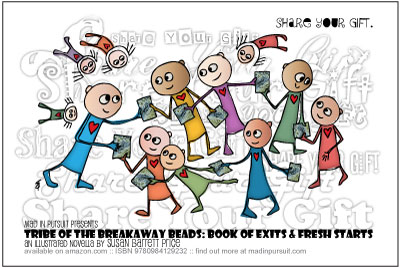 WELCOME TO THE TRIBE bookmark
Print the .pdf below on a 6x4 index card (plain) or lightweight photo paper. Fold in half. Option: punch a hold in the bottom and attach a bead with string or ribbon.
more about the book
Tribe of the Breakaway Beads is an illustrated novella, or short novel. It tells the story of imagined characters in an historical world, except where it tells the story of historical characters in an imagined world. It features cameo appearances by the author's ancestors as a tribute to their ongoing, powerful influence.