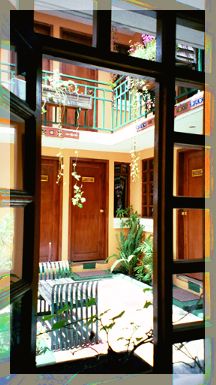 Friday, 4.20.01
Quito
Our entry into Quito was flawless, though the flight felt really long. (J kept asking for 2 bottles of complimentary wine every time the flight attendant came by, then he'd stand up, open the overhead compartment, and stuff them into his suitcase. I was sure we'd wind up with a mess of broken wine bottles soaking J's clothes, but we lucked out.) Immigration was easy and they waved us through Customs. Luis, the young man from La Casa Sol, stood in front of the airport with a sign for me -- a relief to see.
La Casa Sol is smaller than the internet photos conveyed. Isn't that always the case? In fact, it is teensy, but quite beautiful. It has about 10 room on 2 floors, surrounding a tiny courtyard. Ours is a "suite" -- really one cozy room with twin beds, kitchenette, and bathroom, with a lock-box for valuables. Our window into the courtyard is wide and screenless, so my initial impression was that we were overexposed, insecure. But once we pulled the curtains and crawled into our very comfortable beds the worries had faded. The night was extremely quiet.
Dream. Long, complex, about people at work. About 10 of us had conspired to hide a murder that I'd committed (in self defense, of course), but the body was found and the heat was on. Either we all agreed to confess or all had to agree to stone wall -- if any one person broke, we'd all be revealed. The tensions were high and we couldn't really even be seen talking to one another any more. My boss was on to me, I was sure, so I was avoiding him, too.
Initial walk. We still haven't gotten our "travel legs" for a city at 9000 feet in the Andes. J is complaining of shakiness and malaise. I tripped over a raised bit of concrete running down the center of the sidewalk (I wasn't running, the concrete booby trap was). Twisted my ankle and skinned my knee. Compelled to stop at a nearby cafe for big cups of Columbian coffee.
The neighborhood -- "New Town" -- is very oriented to travelers and to youth: Internet cafes everywhere and souvenir shops amid the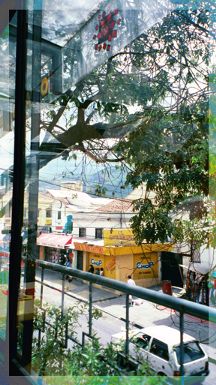 art galleries and restaurants. It's lively and a crazy quilt of old and new structures. We haven't seen many foreigners. The shopkeepers are happy not to speak English -- our Spanish suffices in these superficial interactions.
Afternoon. After juicing up slightly with some of our sequestered airplane wine, we walked over to the Zócalo Restaurant on Juan León Mera. Its balcony overlooks the busy intersection. The afternoon is growing cloudy and breezy. We share another half-bottle of wine and too much food. The service is slow, which is fine. From the balcony, there's an odd vision -- at least one I'd never have in Rochester: from the middle of this sprawling capital city you can peer straight ahead into the countryside many miles away, thanks to the vertical landscape that cups Quito. It's a skewed perspective very strange to a flatlander.
After lunch, we headed east to 6 de Diciembre (many of the major streets are named after dates, which is difficult) to see what that street was like. Turned out to be a busy thoroughfare, lots of school kids in uniforms hanging out at bakeries and delis. No shops of interest. We headed south on automatic pilot, our stomachs full and the breeze that perfect barely cool kind of breeze that makes you want to nap. So finally we gave up and circled back to La Casa Sol. I read, then slept.
Dinner at Shorton Steakhouse on Calama Street. Very elegant, but clearly we don't keep Latino hours because we were the only ones in the place at 6:30 P.M. Of note is that fact that so many places like this keep locked up. An armed guard stood on the street outside and escorted us in. We're not in Kansas anymore.