4.19.01
Rochester Airport
Piped-in music: Doobee Brothers, Stayin' Alive -- The Doors -- Groovin' on a Sunday Afternoon. So, so up-tempo.
I'm trying to stay calm about the long day of flights and the close connection in Miami. Keep telling myself: We will get to Quito, whether tonight or tomorrow, it makes no difference, no plans will be ruined.
Flight to NYC: American Eagle -- tiny and noisy. Good visibility for seeing patchwork of land and long north-south lakes. Wispy clouds and a slight haze contributes to the colorlessness of the landscape. Only the barest tint of green is appearing in the tan fields. The forested areas -- except for the black stands of evergreen -- are still brown and leafless. The sky is washed out, so that the lakes are non-reflective and dark -- pockets of slates amid the sandpapery browns.
Reading: Soñar en cubano by Cristina García to brush up on my Spanish. It was originally published in English: Dreaming in Cuban. It's labeled "el bestseller nacional" -- I wonder what country, whose list.
NYC: Statue of Liberty, tiny in NY harbor.
JFK Airport: We sit at gate 48A -- TGI Friday's has a bar and snacks -- microwaved chicken tenders, bleh, soggy reminders of fresh-cooked greasy-crunchy Fridays past. During the 4-hour layover, we have 3-4 glasses of Chardonnay and wax philosophical, talking about everything from the wisdom of the Founding Fathers to the dark side of our ongoing need for human sacrifice (aka capital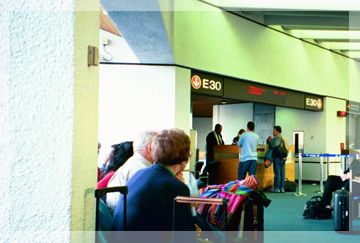 punishment).
Flight to Miami. The flow of wine continues and I'm leaving reality behind. The sun is bright. Below is a wild landscape -- maybe the Carolinas? The ocean and the land merge in a tangle of waterways -- no, not a tangle, but something more orderly: ocean to river, river to narrow streams, which shoot off in narrower, curvier streams.
Flight to Quito. Miracle: made it to Miami ahead of schedule. Good thing -- it took forever to wend our way from B concourse to gate E30. The Quito plane left on time, comfortably uncrowded. J is grumbling about the small print and intrusive questions on the customs forms, but I'm feeling fine. Too much wine, maybe, so I've switched to club soda. The flight will be about 4 hours long.