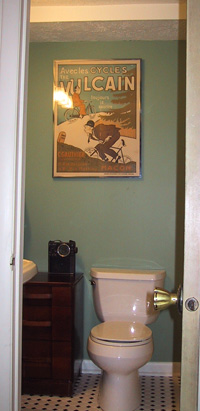 Saturday, 3.25.06: Week In Review
My cold lingers on... bathroom improvements slowly unfold...
Saturday. Picked up paint for the upstairs bathroom. Getting smart about using dark colors: bought a tinted primer to avoid needing several coats.
Sunday. Painting.
Monday. More painting. A visit with the taxman, handing all our papers over to him. Yayyy...
Tuesday. Haircut — color, a little redder
Foray into furniture refinishing: I looked everywhere for a small dark-wood cabinet for the bathroom. Too cheesy... or too expensive... or too second-hand dorky... We have a well built little 3-drawer cabinet (photo below)that used to be in the kitchen but its shiny mahogany surface was all scratched. Handyman Brian thought it would be a cinch to refinish -- easy for him to say. I didn't need it refinished, just touched up somehow. At Home Depot I found mahogany stain in magic marker tubes. Scratches hidden. A little mineral oil and fine steel wool to buff out some white water circles. Cool. Then my research led me to Tung Oil to bring back the overall sheen. Wipe on, buff off -- my kind of refinishing.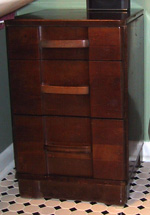 Wednesday. The rest of the tile for the bathtub/shower came in, so the workers are back. Ugh -- the tile wholesaler misinterpreted the order, so there isn't enough little round edging. Hell. More delay.
Thursday. At least they grouted the floor and reseated the toilet so I can use the bathroom now, minus the tub.
Friday. Fun with Jim: trip to lawyer (finally getting my name on the house deed); trip to the Mexican folk art store; hanging toilet paper holder, towel bar and shelf in bathroom (fun with electric drill).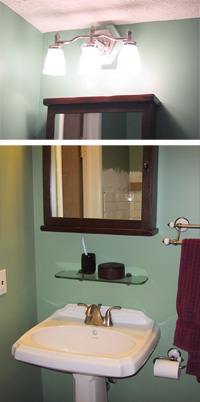 Sorry for going on endlessly about my bathroom. But I lived with a particle board sink vanity finished in gold-flecked formica on a piss-yellow floor for way too long. This simple design is such luxury!
Thumbs Up if you liked this entry.