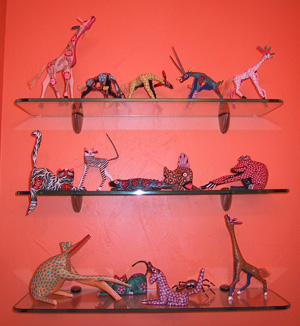 Saturday, 3.18.06: Week In Review
A full week...
Saturday. Excited with the work being done in the powder room so I started texturizing and painting. Put a coat of white on the ceiling and fell to the floor.
Sunday. Because I bragged that I get colds only once every 3-5 years, I'm getting my second cold of 2006. Still, I'm bustling around cleaning up some of the construction stuff. I painted the powder room "marmalade" orange. I thought it would be a soft Dreamsicle orange but it's an electric orange. With our hand-painted Mexican sink and tiles and walls full of Mexican folk art, a pee in the powder room will be like a 5-minute vacation in sunny Mexico.
Forced myself to do tax stuff.
Monday. Workmen are back. Cold getting worse.
P.M. stir-crazy: escaped to Barnes & Noble to buy books on CSS coding (what makes this page look the way it does. When frustrated, buy books.
Tuesday. Jim's morning to go to the office, so I'm stuck here spying on the work being done, in spite of myself. They are s-l-o-w. I don't feel like doing more on the taxes, so I am updating the Memoirs portion of this site. A lot was under-the-hood recoding to fix links, but I did finally add links to the pages about my dad.
Wednesday. Lying low, watching my workmen. Finishing my taxes. The workers tend to have enormous spurts of energy about 3 P.M.
Thursday. Brian the Contractor came by to clean up and put the finishing touches on what he could. We are still waiting for some tiles he needs to finish the bathtub/shower.
This is cool: A radio producer called from New Mexico to hire me to help him with a radio production. He is doing a phone interview of someone here in Rochester. I will record this end of the interview and send it to NM so it can be mixed to sound live. What's interesting is that the person being interviewed is the grandson of Gandhi (yes, the Gandhi -- Arun Gandhi, who I didn't even know lived in Rochester. All I am is the technician who better make damn well sure her equipment is working, but still -- what a huge privilege. The interview is in April.
Back to practical matters: got the sewing machine out and whipped up (don't you just love that phrase?) -- whipped up a "skirt" for the powder room sink. Brian built a counter for the sink and we decided against an enclosed vanity due to the tininess of the room. But then it appeared that your main view while sitting on the pot was the plumbing. A sink skirt seems so First Apartment, but it works well here.
Friday. Lawyer business -- updating the will I hadn't looked at since 1990, when I was still single. Also started the process to get my name on the deed to this townhouse (after only 12 years of marriage!). Stopped at Lowe's and found some perfect glass shelves for our redecorated powder room. We watched the first half of a French movie "The Dreamlife of Angels." Then I went back to painting the powder room. Here's a glimpse of before and after...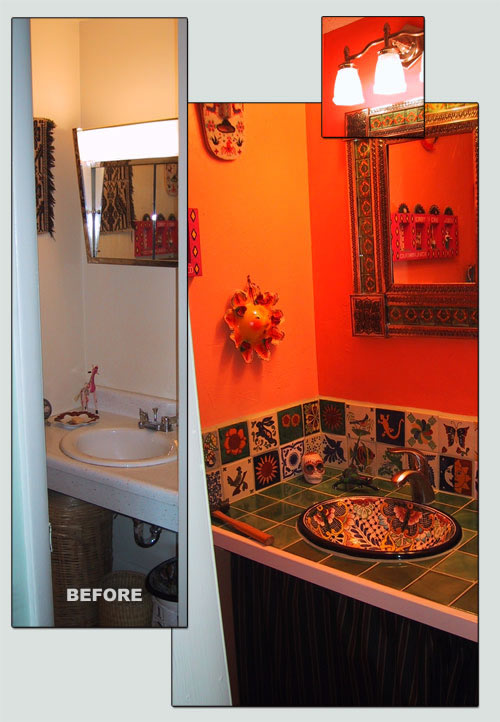 (Revised 3.19.06)
Thumbs Up if you liked this entry.
"We must be the change we wish to see." MK Gandhi
Through writings and speeches, protests and fasts, Mahatma Gandhi sought to change much of the world around him: not just British rule in India, but relations between men and women, Muslims and Hindus, and injustices at all levels of society. Implied in all of those goals is a fundamental rethinking of our individual conduct. To the skeptics who insisted that they could not change unless the world changes first, Gandhi replied, "No, the world will not change if we don't change." [GlobalTribe]
...