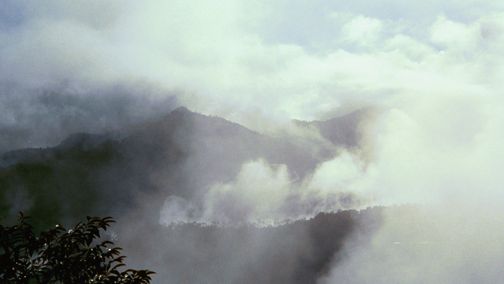 Sunday, 4.22.01
Bellavista Cloudforest Preserve
Picked up by a yellow cab for our ride to Bellavista. The route wound through the mountains, down from Quito into valleys as low as 4300 feet, then back up to where we are now at about 7000 feet. The mountains were awesome -- incredibly steep. Near Quito they are more barren, then they are a textured green, thick with forests. We see cultivation here and there, most obviously corn.
After about an hour on a well-paved 2-lane highway with no traffic, we took a turn onto a rocky road -- a steep single lane, narrowed by jungle overgrowth. The vegetation disguised the fact that we were driving along a steep precipice.
After a while we stopped at a pretty sophisticated fish hatchery to pick up some trucha (trout) for the kitchen here. Finally, we arrived at our cloudforest haven. Funny, on the road up here the sun was glaringly hot and the foliage looked all dried out. No sooner than we'd arrived, the clouds had rolled in.
Our quarters are in a 4-story geodesic dome about 30 feet in diameter. The skeleton is a metal frame, which is sheathed totally in bamboo, including the floors. The roof is thatched. The first floor is glassed in all around -- our common room, library, dining room, bar. The main attraction is the hummingbirds (colobrís), who swarm at the feeders. Beyond the feeders, the jungle crowds in.
Our room is on the second floor -- a double bed, a single bed, a teensy (sit-on-the-toilet-knees-in-the-shower) bathroom and a teensy porch that looks out over a spectacular valley (now full of mist). We also have a hummingbird feeder and one of the hummers got caught in our room, banging up against the glass window panes. I tried to catch her with my cap but lost my nerve -- she was shitting with terror. J caught her and had the delicate touch to grasp her within my cap and escort her to the open balcony.
Our "personal guide" is Diego. He was anxious to get us walking before the afternoon rains begin. We headed off -- not really expecting a climb -- but at the sign [R] we made a sharp right off the road and into the jungle, suddenly steep and narrow. J was unsteady with his smooth-soled city shoes. Shortly we came to a lookout. Below was the whole layout: dome, staff house, and special casitas for the owners and for family groups. Our pictures may not turn out because the afternoon mist had already begun to film things over.
But -- back at the dome -- we found the wine cabinet -- our Fitzcarraldo existence complete... let it rain. Lunch was a feast of potato soup, tomato and green pepper salad, and chicken and rice. The rain started in earnest. We are wrapped in cool cotton here in our treehouse. I can sprawl on the big double bed with my book and my glass of wine, the big window on my left, hummers perched on tree branches getting soaked. I doze.
The rain here is unlike the rain at home. Here you are aware of it as the sustenance of life -- the cool soup within which everything grows. At home it's merely dreary. It doesn't seem to be keeping us from doing anything in particular. We came here to BE, no agenda.
People here: a young woman 5 weeks into a 2-month study of hummingbirds (aggressive feeder behavior among the species) and mixed flocks of other birds, thinking about her PhD. I don't think I could do that without making it metaphorical, making it a parable somehow. There are two other couples -- friends: a couple from South Africa and an Ecuadoran couple (husband originally from Chicago). The rain drives us into conversation -- about J's travels to east Africa, elephants who get drunk on fallen fruit of a certain kind, and the odd fact the Ecuadorans know about Wegman's, our local grocery store chain. The rain continues unabated, as do the hummers, who have just about emptied all the feeders.
Dinner. A horrid mixture of bad Spanglish -- we ate with our guide Diego, whose English is non-existent. J kept launching into one of his war stories in Spanish then failing to pull up any appropriate vocabulary. Sometimes I could help, mostly I couldn't. The dinner itself was excellent -- the trucha we picked up on the way here.
Reading. Don't want to fall asleep till 9.