mad in pursuit notebook
DISPATCHED FROM THE CROSSROADS
Half-Year In Review: Jan-Jun, 2010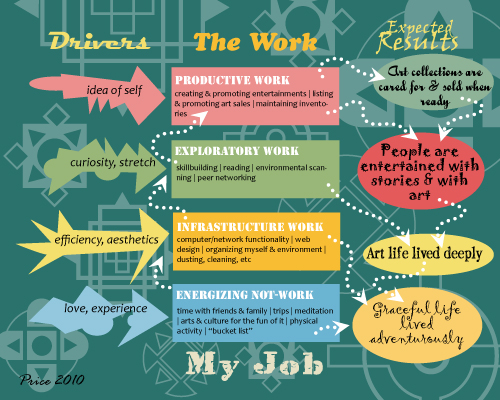 Am I living by my manifesto (see sidebar)? Am I fulfilling the job description I published on 1.7.10? Six months left to go in the year, so do I need to make adjustments?
Productive Work
Collections
Sold 18 antique guns from collection, plus a few powder flasks
Catalogued and sold cartidge collection
Good dent in photo-llustrated book collection by listing and selling on Ebay
Major shift in Ebay strategy from junk to valuables. Achieved "Top Seller" status and boosting my income
Entertainments
Enormous progress on GRAND EXITS. Draft online for readers willing to give feedback. Maybe complete for general distribution by end of year.
No new videos or radio, but KATHLEEN'S MACHINE did get licensed for broadcast.
Teensy start on more sharing of work via Rochester Film Office project, Artdrop project.
Can't really say I've expanded my "audience" except maybe via Facebook.
Exploratory
Skillbuilding
Practice drawing direct to computer with new pen tablet
Better tabletop photography with new DSLR camera, for Ebay and catalogs
Learned tabletop video with Vado camera to enhance Ebay listings
Progress manipulating Indesign (catalog to index cards)
Peer Networking & Environmental Scanning
Peer networking is especially bad; environmental scanning...? web-surfing?
Infrastructure
Got my network humming for file sharing, with laptop on ground floor for order processing and various cloud solutions for access to needed info
Blog redesigned for Wordpress 3.0; new blog set up for review of GRAND EXITS
Trying to go paperless with my Getting Things Done system, using a combination of Google Tasks (today's to-dos); Nozbe (project management); Evernote and Snagit (inbox functions)
Energizing Not-Work
Great trip out West to the Grand Canyon
Continued wonderful interactions with friends and family on- and offline.
Short experiment in church attendance. Lots of reading about the history of religion, esp. works by Karen Armstrong
Conclusion
Surprisingly I seem to be doing better on my "stewardship" obligations than on my creative work. But (memo to self)in the creative work area, volume doesn't necessarily coincide with either quality or ultimate sharing.
6.30.10
MANIFESTO: TELL STUNNING STORIES. Dial up the volume of my voice; take risks; make it impeccable. (Adopted 1.19.08)