Passion & Peril on the Silk Road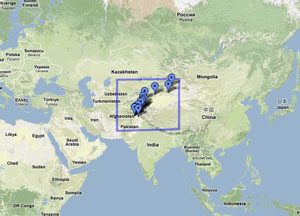 Travel into the heart of darkness with a couple of American antiquities dealers, who find themselves at opposite ends the road that stretches between tribal Pakistan and backwater China. In over their heads.
Murder and the challenge of moving forward launch the story.
Jackson and Nellie are at odds. The murder of Catherine Denforth lies between them. His obstinacy lands him in China with an art thief. Her heroics land her in Pakistan with crazy people. Will they ever reunite?
On these remote byways, Nellie, Jackson, and their fellow travelers grapple with issues of ethics, trust, rage, and bitter heartbreak -- as well as the intrigue of the international antiquities trade.
The story twists and turns around the twin forces of revenge and redemption, throwing the characters into frightening confrontations.
Like all great tales of psychological darkness, "Passion and Peril on the Silk Road" plunges, out of control, into unknown landscapes, without a map. No one knows where the madness will lead.
PAPERBACK
Amazon
KINDLE EDITION
Amazon
E-BOOK EDITIONS
Smashwords (multiple devices; available for iPhone via iBook and Nook via Barnes and Noble.)