mad in pursuit journal
DISPATCHED FROM THE CROSSROADS
Breathless: the Aerobics Era, 4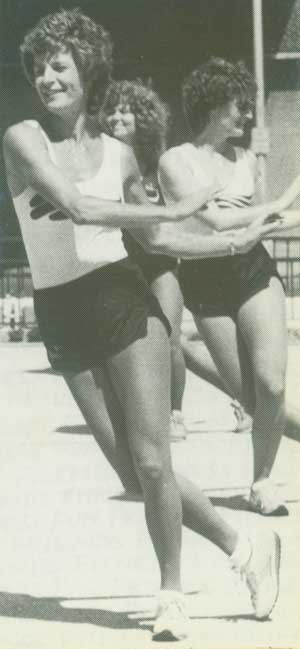 (...Continuing) So I'm sitting here thinking, gee, I should pull my Pat Drum entries into a little group with their own look, with a "cover page" and a link to Pat's new photo gallery -- an interim measure while Pat ponders her own website. But I forgot that Pat doesn't ponder, she pounces. She doesn't daydream about an idea, she stalks it.
So I meander over to my computer last night and, what's this, Pat's website is UP?
And Pat's website looks nothing like the first-attempt websites that people pump out with tired old generic templates.** She has a scrapbook here, full of intriguing details. Plus the beginnings of her own story. Her photos remind me that part of her successful marketing was getting those role-model instructors out doing demos at every parade and festival in town. Oh, the energy.
5.8.2008
PHOTO: from an ad I laid out -- must have been early eighties, announcing the Henrietta "Grand Opening."
**She has a Mac - unfair to us poor Windows laborers?