mad in pursuit ireland
DISPATCHED FROM THE CROSSROADS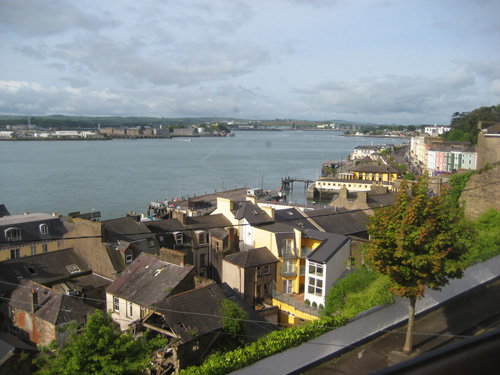 Cobh, Town of Tears
I don't want to call our trip to Ireland a "pilgrimage." My cousins are regular folks with jobs, not monks presiding over consecrated land. And Kilkerrin is no Graceland. But our days added up to more than a vacation, more than sightseeing. Only half-knowing what I was getting into, I wanted to open myself up to all the possible historical, emotional and spiritual connections Ireland had to offer. This included reminding myself now and then to put down the camera, drink in the air and let my feet connect with the ground beneath them — to simply BE part of Ireland.
We were originally going to spend time in Dublin — how can you visit Ireland and skip Dublin? — but after only a couple days on the road, it loomed as an ordeal. When we got Maureen's invitation to visit her in County Tipperary, we grabbed the excuse to go south instead.
I read up on Cork — Ireland's second city but only a 10th the size of Dublin — but then Cobh [1] caught my eye. It's the harbor town just east of Cork. (Pronounced "cove.")
I might deny our trip was a pilgrimage, but what Irish-American could resist the pull of Cobh, formerly Queenstown, where nearly all our ancestors caught the boat to America?
The drive between Holy Cross and Cobh was typically brutal. Long stretch of fast highways. Total panic in the speedway knot around Cork. Cursing frustration at not finding our B&B in the maze of one-way, narrow, vertiginous streets in Cobh. We were totally softened up, ready to be swallowed by history.
It was a gorgeous day in a beautiful old town, but we sat glumly at lunch, the air heavy on our shoulders. Then it hit us: We were sitting where 3 million Irish said goodbye to their homes and their families for what they assumed to be forever. The ground had been watered with tears — we felt it.
When our ancestors left home, their going-away parties were designed like Irish wakes. At dawn, after a night of drinking and crying and blessings, the emigrants needed to walk or take the horsecart to meet the stagecoach or train to travel the long distance between Mayo or Galway to Cobh. History tells us the grief was passionate and overhwhelming. [2]
Cobh was the transition zone: the threshold between family, childhood, and hunger on one side; the hopeful unknown on the other. Somewhere I read that the band on the dock played the uptempo reel "St. Patrick's Day" as everyone waved goodbye. As soon as the ship pulled away, the tempo of the tune was changed to a funeral dirge. Can it be any sadder than that?
Well, yes. To make things heavier, the Lusitania was sunk here in 1915. 1200 of the 2000 passengers drowned in the harbor and Cobh became home to the few survivors till they were able to travel again.
We visited the Cobh Heritage Center. The main exhibit walked us through a dimly lit, life-sized diorama of the steerage compartment of an immigrant ship, while the soundtrack roared with a north Atlantic storm.
The next day we left Cobh for Bantry. When we arrived at our B&B, Mrs. Morris asked where we'd come from. "Cobh," we said. She responded: "Oh! What a sad place!."
Yes, the sadness — the lingering spirit of all those tears had surprised us with their power.
6.1.07
NOTES
[1] Pronounced "cove."
[2] In 1907, 11 Kilkerrin residents left together, including my great aunt Helen and her uncle Michael. By that time, the ships were safer and Irish-America was organized to receive them. But still, can you imagine the commotion at their leaving?
Like myself, Helen was the oldest daughter and the first to leave home... so I know a little bit what that's like. She was only 17, but her uncle had gotten himself in a bit of trouble and had to leave, so I guess her family thought this was her chance for a better life and their toehold into the prosperity of the New World.
PHOTO: Cobh, from the window of our bedroom