Saturday, 10.14.06: Week In Review
A week of fun on Planet Susan.
Social. An impromptu Saturday night dinner at Carol & Deb's turned out to be a multi-course sit-down dinner with great conversation. Talk of the town: they won several items from the Cher auction. Thursday I went out for beers with two darlin' Irish lads on the west side of town — barely avoiding the snowstorm that socked in the western part of New York State.
Book Sale. Tuesday the call came with an offer for one of Jim's book collections. After a flurry of negotiation, we agreed on a price. Out to dinner to celebrate. Hopefully, the booksellers will arrive by the end of next week to pack up the books and give us our moolah. Not only a little extra cash but 6 yards of books shelves cleaned out.
Ebay. 290 pieces sheet music out the door in a 40-lb package. The price was lousy, but occasionally those "inventory reduction sales" are needed.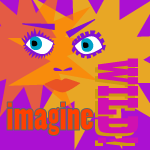 Treated myself to a new Wacom drawing tablet for drawing directly into my computer. I love my 4 x 5 tablet, but decided I couldn't live without a 6 x 8 Bluetooth (wireless). Installation had a few mysteries, but I finally got it working. I've convinced myself that drawing is much better with it. (See doodle on right.)
Friday night we went to O'Chocolat — a grand wine and chocolate tasting affair for the benefit of the local Alzheimers Association. Chocolate prevents senility, right? Fun, but crowded. You had to stand in line for a lousy tablespoon of wine — I snuck out to the cash bar for a $4 merlot to tide me over.
Today: a fall foliage and art studio tour of central NY planned.
Thumbs Up if you liked this entry.