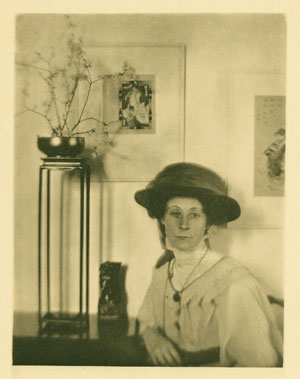 Wednesday, 1.18.06: Camera Work
I used my Monday holiday to get off my ass about Ebay sales. Ignoring my stack of sheet music for the moment and rewarding myself for getting all those Paul Walls listed before Christmas, I decided to dig out something new to sell.
Among Jim's collections are volumes of Camera Work, a tony periodical published in the early 20th century. It's the kind of publications where the pictures get torn out and sold separately. Jim had accumulated a few of these "tear outs," then put them in the sale pile when he got the corresponding complete volumes.
A handful, like the one here, are photogravures beautifully printed on tissue, then daintily hand-pasted by the corners onto the magazine page.
It turned into a research project, as usual, which I enjoy. I learned about "pictorialism" with Paul Wall. These guys are a cut above the mysterious Wall of our 1940s collection. But they are still mostly considered to be "amateur" photographers who elevated photography to an art and who loved to play with the images during the developing and printing processes. I guess you could say they are the forefathers of today's digital camera + Photoshop artistes.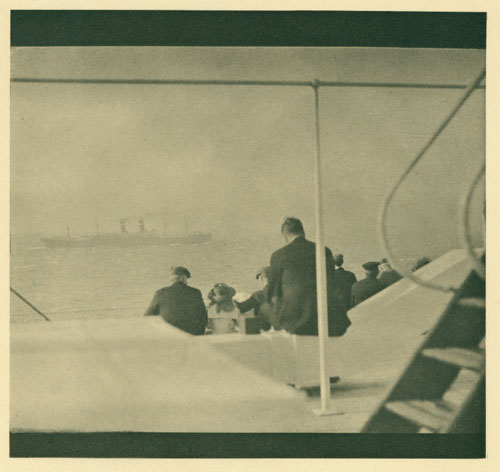 Camera Work was an influential quarterly journal which appeared in 1903 in the wake of the Photo-Secession movement and edited by Alfred Stieglitz. The first edition reads:

"Only examples of such work as gives evidence of individuality and artistic worth, regardless of school, or contains some exceptional feature of technical merit, or such as exemplifies some treatment worthy of consideration, will find recognition in these pages."

This magazine was beautifully produced... That same year Photography reported: "There can be no other verdict but that Camera Work beats all previous records for dignity, good taste, and...value." [Source: Robert Leggat]

Photos: (top) "East And West" photogravure by JC Annan (Scotland), published in Camera Work 32, Oct 1910. (bottom) "Passing Steamer" photogravure by Paul B Haviland (American), ublished in Camera Work 39, July 1912.

...