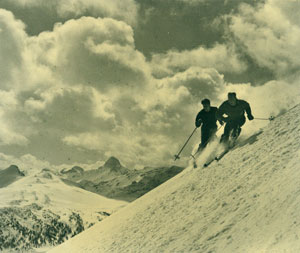 Offering
Collection of 126 photographs, dated 1939-1941, from various spots along the Eastern Seaboard and northeastern U.S.. The photo on the right won won a prize in Pic magazine about 1940.
Our collection was discovered as a group in upstate NY. In general, the photographer or photographers demonstrated a Pictorialist bent. Only one photograph has an identified photographer (see Paul Wall section below).
From Robert Legatt:
In effect, the term Pictorialism is used to describe photographs in which the actual scene depicted is of less importance than the artistic quality of the image. Pictorialists would be more concerned with the aesthetics and, sometimes, the emotional impact of the image, rather than what actually was in front of their camera.
All these photos have been offered for sale at Price And Zimmer on Ebay (under "Vintage 20th Century Photography").
Paul W. Wall (2 October 1903 - 16 December 1988)
The photos were originally all attributed to the Pictorialist Paul Wall. It turns out that only the one on the left can be confirmed. According to information I received from Wall's son on 5.2.06, the times and places of this collection do not match up with his known chronology.
He was born in Germany, but migrated to the U.S. and lived in Chicago with his wife and 3 children. Data gleaned from the 1930 census suggests he was born in Germany and, at that time, worked a day job as a toolmaker. The Social Security Death Index gives the following dates for a Chicagoan Paul W. Wall: .