Curran Family — Ewald's Parents
Florance, b. 23 Feb 1863 London, England, of Irish immigrant parents; immigrated 1869; d. 5 Nov 1936
Parents (E's Grandparents). Florence Curran and Bridget Keenoy (See sidebar).

They "had much sorrow and difficulty to overcome in life and getting a family to St. Louis as one. Took seven years. I have the copy of his signature granting his citizenship and disavowing allegiance to King of England and swearing loyalty to United States. Con P and Florance were born in London and were among those the fever did not claim when it ravaged the Irish section of London in the 1860's. And that endurance and protection by the good Lord Almighty is why I am glad to hear you had a dear Ewald precious to you." [4]
Bridget Delaney, b. 21 Mar 1870 [also given as 1868] Missouri USA (of immigrants from "Irish Free State"). D. 19 Jan 1946.
Married 19 May 1886
Residence (1900 Census) 1431 North 7th. (Later) 5858 Romaine Place
Business: Founded Con P Curran Printing Co with his father and older brother Con P in 1893. Florance was a V.P. [4]
Bridget's oldest daughter, Molly, married Francis Barrett, who was the brother of my deceased father, Thomas Barrett. He died when I was 18 mo. old. Therefore, my mother had two grocery stores to manage and that's when Ewald came into the picture. While she managed a store away from home, Ewald took care of the store on Rowan where we lived and ultimately he babysat for me. I remember sleeping on the bags under the counter, etc. and I'm sure that's when he thought it would be better to be with his mother, Bridget, only a few blocks away. She was so warm and close to me as were her daughters, Catherine and Ella. I'm sure they spoiled me since I was so young. Their home was beautiful and comfortable and I was always welcomed there. I don't remember their dad, only that when he came home he enjoyed the dinner and then sat with his newspaper. [5]
In addition to the "baseball team & 3 cheerleaders" below, two girls and a boy were lost as young ones [4].
Curran Family — Ewald's Siblings
Photo above: James Curran's funeral in St. Mary's Cemetery, Evergreen Park, Illinois Aug. 3, 1970. Left to Right: Douglas, Con, Westlyn, Flory, and Ewald. [6]
I'm beginning to hear from Curran family members, so I'll try to piece together what I've learned about Ewald's siblings and their families. The generations are indented with ... .
Florance (Florie) J Curran
b. 1887. Married to Caroline (Carrie) Bohn.
19301 Living at 4961 Chippewa. Working as a linotyper in the printing business.
... Madonna b. 1913; d. 1989. Married to [...] Willis in the Old Cathedral, St. Louis, MO
... ... John Willis Wife Nancy.
Mary A (Mollie) Curran Barrett*
b. 1888; m. to Francis Barrett. Francis was my mother's uncle, who ran a confectionary in north St Louis. Barrett Brothers Park in St Louis is named after the two oldest boys, who died during WW II.
... Frank Barrett b. Jan 11, 1917; d. about 1945 in Germany, during WW II. Married to Marie Barrett.
... Florence (Florrie) Barrett b. Aug 5, 1919; d. Dec 16, 1944 of leukemia in Guadalcanal, during WW II.
... Ella Rose Barrett b. Feb 12, 1921; d. 2005
... Jack Barrett b. Jan 5, 1924; d. 1929
... Delaney Barrett b. Aug 24, 1927; d. Aug 15, 1995 in Akron OH
John Curran
b. 1890 (m. at age 21, widowed at the 1930 census)
19301 Living with parents and his son John on 5870 Romaine Place, widowed. Working as a collector for a loan company
... John "Johnnie" Curran b. about 1918. Married Mabel.
... ... Kathy Curran Stirnemann. Husband Jack.

... ... Patrick (deceased)
... Evelyn Curran lived in an orphanage after her mother died and would spend every weekend, holiday etc.. with her Aunt Mamie and Uncle Connie.2
... [another girl?]
Cornelius (Connie) Curran
b. 1892. Married Mary "Mamie". Two daughters. Worked with Ewald both at Con P Curran and then at the Christian Board of Publication.
1930 Living at 4019 Miami. Working as a pressman.
... June Curran Burton b. about 1918; m. Nelson Burton Sr., was "an accomplished [bowling] champion and considered one of the greatest matchplay bowlers of all time. The senior Burton was also in the bowling business, having owned five different bowling centers over a period of years" [source]
... ... Nelson "Bo" Burton Jr, b. 1942. The pro bowler and entrepreneur. Four children, who he got custody of after his 1989 divorce. From "Bowling Digest" 2000 article:

... ... ... Catrina, 30, is the chief financial planner for City Group Worldwide

... ... ... Niki, 26, went to Alabama on a golf scholarship, graduated with a radio/television journalism degree, and now works for an advertising agency

... ... ... Twenty-one-year-old Nelson Burton III, known as "Tripper," is a sophomore on a golf scholarship at Missouri

... ... ... Brett, 14, is better known as the "Axeman," a moniker he picked up while boxing competitively. "He likes that name," Bo says, "But we have to get him to stop boxing because he's too good at other sports." Brett is a high school freshman and scratch golfer.
... ... Neil Burton

... ... Barbara Burton b. 1950
"One of [Doris Curran's] favorite memories is [from
Castlewood
] when the boys would drive your mom and herself down to the restaurant. They would sit each girl on the big headlights of the car and head down the hill." [2]
... ... Joy Curran Burton

... ... ... Theresa Curran Coyle
... Doris Curran Murray b. about 1922. M. William "Bill" Murray, 1950, who died in 1958.
... ... Kathleen Curran "Kacy" Murray. b. 1953

... ... ... Liam Curran Carlson b. 1988

... ... Bill b. 1955

... ... Jack b. 1956. D. 1993.
James Curran
b. 1893. Married Roseann Mary Chandler (Cullom, IL, b. 15 Nov 1896). in Chicago IL. Moved to Chicago
They met while my father was in the US Navy, training in Grant Park, downtown Chicago. My mother was employed as a telephone operator at that time. My father was assigned to the battle transport Willamette, formerly the sailing ship Eastland, which had turned over in the Chicago River with hundreds of people from General Electric on board. There was great loss of life. The Navy attempted to sail the ship to the St. Lawrence Seaway but encountered listing troubles off Milwaukee and had to return to port at the Navy Pier, Chicago. The war ended and my parents joined in Holy Matrimony. They opted to reside in Chicago, but we made frequent trips to St. Louis to keep in touch with the family. I got to know all my aunts and uncles, plus my numerous cousins.... Ewald was one of my favorite uncles, who I though was absolutely hilarious, always laughing and the life of the party. [6]
... James Chandler Curran b. 6 October 1921. As of Feb 2008, living in Las Vegas, Nevada.
... ... John Curran b. 10 Feb 1951. Married to Mary Elizabeth Curran (b. 31 Aug 1952).

... ... ... Bradley Ryan Curran b. 10 Sept 1980. (As of Feb, 2008, living in Seattle WA)
Harry A Curran
"Dan was about my age and I was introduced to Buddy through him, with some friends from Notre Dame school (across the street from where they lived), where I had many good tiimes at their Fish Fries and dancing afterwards. My mother was good friends with Frances, Harry's wife." [5]
b. 1895 Married to Frances G.
1930 Living at 1610 Keinlen (?) Av. Working as a press feeder.
... Eileen M b. about 1920; m. Paul Dobbins
... Dan A b. about 1922
... Florance J "Buddy" (male) b. about 1930. M. Mary Lou Gover
... ... Susie Curran Panke, m. to Joe Panke

... ... ... Nathan (b. 1978), Brad (b. 1980)

... ... Sherry Curran LoRusso, m. Joe LoRusso

... ... ... Micah (b. 1982; m. Mina Fujita; child. Natsumi Grace), Josiah (b. 1984), Janson (b. 1988)

... ... Michael Curran, m. Mary

... ... ... Shannon, Ryan, Rebekah, Rachel

... ... Sandy Curran Kloepfer, m. Tony Kloepfer

... ... ... Jessica (child. Austin), Lauren, Jenna, Lindsay

... ... Jeff Curran, m. Gen Berger

... ... ... AJ (boy), Faith

... ... Chrissy Curran Holmes, m. Dave Holmes

... ... ... Katherine Christine "KC", Jack
... Jean b. ?; m. Tom O'Neill
Ella Rose Curran Schanbacher
b. 1898, d. 1977 3
1930 Living with parents on Romaine
Married Orville Schanbacher (d. 1960). Moved south to Birmingham, Alabama.
... Mary Ann Schanbacher Starke
... ... Florence Curran Starke O'Neal (girl)
Douglas Curran
b. 1901
1930 Married to Lillian. Living at 1417 McCausland. Working as a pressman.
... [a daughter?]
Westlyn Curran
b. 1902
1930 Married to Genevieve (maternal aunt to one of my parents' dearest friends George Maxwell) . Living at 2712 Belt. Working as web presser for newspaper
Ewald Curran
The following rendition of "Old Mill Stream" by Ewald Curran and Joe Foley was recorded on 12 Feb 1944 at a Valentine's Party hosted by Kitty and Ewald Curran. The female voice is Mary Hohman.
Down By The Old Mill Stream (mp3 file)
b 1 Sept 1904. Second husband of my grandmother Catherine Flanagan Barrett Curran. His page. D. 3 Dec 1988. Children and grandchildren he nurtured:
... Mary Barrett Hohmann (m. Lester; child. George Hohmann, Barbara Hohmann Holland, Tom Hohmann, Jim Hohmann)
... Bob Barrett
... Bill Barrett (m. Lill Demme; child. Robert Barrett, Catherine Goergens, Carmen Barrett)
... Kathleen Barrett Price (m. Walter Price; child. Susan Price, Thomas Price, Ellen Price Stretch, Kathleen Price McDermott)
Catherine Curran Miller
b. 1905
1930 Living with parents on Romaine. Working as a Balance Clerk for a railroad office.
Married Bill Miller, but was later divorced
... Bill Miller
... Kathleen Miller
Delaney Curran
b. 1915.
1930 Living at home with parents on Romaine.
WWII: fought in the battle of Iwo Jima.
Married: Wife Murial. I know that Delaney lived in California. During the Sixties (I'll estimate), we heard about him because he lived in a house behind Zsa Zsa Gabor. Her house was burned down in one of the terrible wildfires and his was spared. I was told his house was spared because he said the rosary — something like that.
*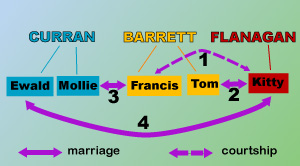 *Family Ties. I should mention that the Barretts and the Currans were entwined in ways a little more complex than Ewald + Kitty.
Kitty Flanagan went with Francis Barrett first. But Tom Barrett stole her away.
Francis went on to marry Molly Curran.
Mollie was Ewald's older sister
Ewald married Kitty after Tom Barrett died.