Extreme Cold Crazy
Maria and I will go fishing on Saturday. It will be frigid and with any luck it will be snowing so hard that we'll barely be able to see the water. Extreme fishing. Just what I'm in the mood for. We're going to push it to the limit: head off at dawn to a stream we've never seen before, ready to explore, armed with a thermos of spiked coffee to keep us warm. That's the kind of aggressive mood we're in: laugh at the cold and slug down another shot of brandy.
"What?! Let a little weather get in the way of fun?" I say to naysayers. "Why let me tell you about the time I went cross-country skiing in the Adirondacks at thirty below zero!" Should I add another exclamation point? "Thirty degrees BELOW ZERO -- Fahrenheit!!"
And did I whine?! Did I say it was "to-o-o-o co-o-o-ld"?
Damn right I did. But did I go anyway?
Of course.
I was with Jim. I'd given him this Christmas present of a January holiday at a rustic lodge outside Lake Placid. It sounded extreme. And it was and he said of course we're going out to ski, what ELSE is there to DO here??? So we shimmied into our thermal underwear, latched on our skis and headed off into the woods behind a group who seemed to me like they'd been backwoods skiing since birth. You might guess that cold was not my major problem. Splaying my skis out at an unnatural angle and grunting my way uphill and getting my ski tips lodged in the deadfall on the sides of the trail – that was my problem.
But if that was extreme, it probably wasn't as crazy as going scuba diving in the St. Lawrence River in late October, at night. One thing to shimmy into your snuggly long underwear before braving the cold – quite another to wrestle your way into sopping wet neoprene, gear up while your teeth are chattering, and dive into 50-degree water for a half-hour of paddling around at 50 feet below the surface.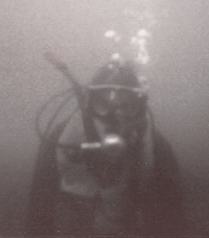 It was 1979. Jim and I were taking a course for advanced scuba certification and the schedule got stretched out into the fall. Our weekend in Alexandria Bay had to cover a wreck dive, a night dive, and a drift dive. The wreck dive was easy by St. Lawrence Seaway standards: a shore entry and brief swim out to the Islander, which was lodged in 50 feet of water. I remember nothing of it. What I do remember was eating a big Italian supper (alcohol-free) with the group, then going back to the motel to prepare for the night dive on the same wreck. Our wetsuits were still sodden and we followed our instructor's advice to throw them into the shower under hot water before donning them. This gave us the slight advantage of not commencing to shiver till several seconds after we left our rooms and hit the 35-degree night air.
We drove to the river's edge with the heater on full blast, grilling our dive gloves on the dashboard defrost blowers. We sat in the steamy car till the last possible moment, pulled on the neoprene hoods, strapped knives to our calves, exchanged our shoes for wet booties, then jumped out and donned the rest of our equipment as fast as possible. BC jacket, weight belt, tank and regulator, mask and snorkle. Lumbered like land sharks to the seawall, jammed our feet into flippers, switched on our lights, and plunged into the river.
The first moment of every dive is unbearably cold. The wetsuit only serves to reduce the circulation of icy water, to hold it against your 98-degree skin till your body can warm it. Luckily, your autonomic nervous system takes over to prevent you from dying of shock while your conscious brain concentrates on avoiding self-imposed jock-death. This commands all your attention: clearing water from your mask, checking time, checking air, checking depth, neutralizing your buoyancy. It forces you to quit thinking about what a stupid idea this was altogether; it breaks the obsession with how cold you are.
"I can see no way out but through…"* It is only my ninth dive and I need to fixate on my gauges and my body position. The descent disorients me. My compass dial tells me where I am going but doesn't give me a hint where the wreck is so I need to also keep track of J's flippers as he guides me, nevermind the shivering. All I remember of the ship as we circled is a featureless hull, but there were fish. Large pike were suspended in our cones of light, too sleepy or too stunned to move away.
It wasn't till we emerged half an hour later that the cold once more became the focus of our beings. We might have broken a world's record for doffing our equipment and getting the car started and heater blowing.
I'm in the mood for that kind of insane chill. Okay, without the frigid wet suit. But with ass-kicking heavy boots and enough layers to be master of my environment.
Related entries: (1) Day after the night dive, was a drift dive down the St. Lawrence... and a turning point for me. (2) Day after the frigid x-ski adventure was a peak experience on Whiteface Mountain.
*Robert Frost again
11.22.01