4:: The Kampung
Jakarta
1.23.97
I'm probably not the first middle-class romantic to be enchanted by poverty. Maybe it's a disgusting trait of the over-privileged -- do I think poor people are quaint? I know the facts: infant mortality, disfiguring diseases, cigarettes instead of food. And even though I've been trained in public health, I have no overpowering urge to rush in and help. Something in me just wants to look. Pause. Look. Make eye contact. Be afraid. See the textures and the layers of an existence pieced together from scraps, not purchased as a matched set from a chain store. Smile.
We taxied up to Sunda Kelapa, the old shipping port. Men were loading bags of rice onto Makassar schooners and off-loading lumber. It was too early in the trip for me to realize that I was in a part of the world where the engine of commerce was still sea trade in hand-made sailing ships. I couldn't see past those glittering globalized skyscrapers. Jim had the guidebook, had a plan, and I was following.
As we searched for the maritime museum (Museum Bahari) and the Pasar Ikan street bazaar, we picked up a "guide" -- a young man who knew a few phrases in English, enough to make a connection with a couple of confused-looking wanderers.
He led us through the museum then asked if we wanted to see the "real Indonesia." Of course. With skyscrapers and a yacht basin behind us, we took a turn into the kampung. This was the overcrowded canalside slum I was reading about in The Year of Living Dangerously.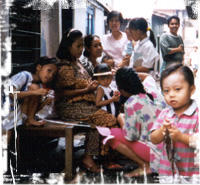 I was shy about taking pictures, but the guide arranged it for us. The kids posed and smiled. The housing was minimal -- a patchwork of wooden planks and rusted iron -- yet the kids were stout and happy, wearing decent clothes, holding toys. Little girls were coming home from school, dressed in uniforms: clean white blouses and navy blue skirts.
The guide stuck with us as we walked through the original Dutch colony neighborhood of Old Batavia, then led us to the Café Bavaria for a drink. He insisted we'd find antiques at Taman Impian Jaya Ancol, a big park a long taxi ride away. We were game but the "art park" turned out to be crafts for the tourist trade. By this time it was pouring buckets of rain and there was no taxi in sight. We were soaked, even with umbrellas.
We finally found a taxi and went back to the hotel via Jl. Surabaya, supposedly another antique center. It turned out to be more of a "flea market" specializing in modern repros and crafts. We gave some cash to our volunteer guide (who'd really worn out his welcome by this time) and he had the nerve to be angry that we didn't pay him enough.
Here's another thing it took me a while to realize. In the United States we tend to think of poverty as a character flaw. If we're conservatives, poor people are lazy. If we're liberals, they are depressed and hopeless. In either case, inert. Society's burden or society's obligation. Through our guide and the kampung he showed us, I got a glimpse of poverty as a state of energy and inventiveness. To get through the day, you hustle.
[ Back ] [ Home ] [ Up ] [ Next ]