My head's into photography. Upgraded to Adobe CS5. Got some plug-ins. Have a great digital stack of Indonesia photos, taken in 1997 with my first Canon Elph using now-obsolete Advantix (APS) film.* A few of them are beauties that deserve a little more loving care.
BEFORE. I always liked this view — the blues and the juxtaposition of the kampung slums with the yacht club. And always, reflections on the water. Sky is washed out, however.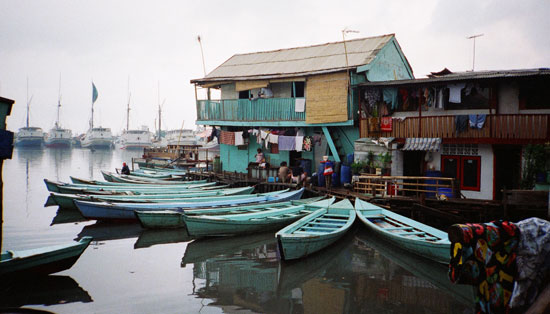 AFTER.
Scott Kelby (Photoshop Insider) assured me (on TWIT Photo) that Color Efex 3.0 was the best Photoshop plug-in ever. And when I looked it up, there was a great sale on. So…
The resulting photo is a combination of the "Low Key" preset on the top layer, with the center area of interest masked through to a layer using the "Sunshine" preset. I like the drama.
For iPad lovers: Try Nik's Snapseed app. Also good for some drama.
*Work done by ScanMyPhotos negative scanning service, resulting in excellent, gigantic jpegs.