If there is one thing I can't obsess enough about it's the perfect travel bag. And I have boxes of them. But surely I need a new one to ride the rails in Europe. Eeeeeeeee…. My mantra in recent years is "you already have one" but eeeeeeee…..
Jim and Idecided last night not to make anymore hotel reservations in Europe… to play it by ear… to respond to the moment… our sense of adventure. So my energy has shifted from planning to preparedness, which I secretly love more anyway.
We already bought new rolling luggage (our 90's era models having gotten rickety… seriously, I swear), so I spent a couple hours scouring Travelsmith, Magellan, and eBags for a fabulous new shoulder bag. My requirements are specific. It has to be a messenger bag, i.e., two pockets external to the main compartment, big enough for my iPad but not too big or it will be heavy.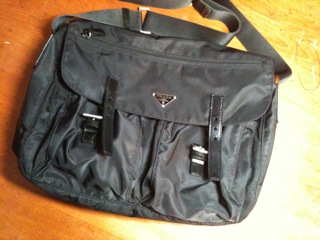 Conclusion. Nothing measured up to the Prada bag that Fugai gave me years ago and which was my perfect companion in Ireland in 2007. But we had a rental car in Ireland, with plenty of room to fill the back seat with extras. What if it isn't big enough???
I went downstairs to the bag boxes. What man-purse could I make Jim carry??
But ohhhhh, there (wrapped in a tight roll, with rubber bands around it) was the bag we'd toted with us to Ireland and apparently (a tag dangled from it) to Indonesia: a giant Travelsmith nylon tote bag with mesh side pockets and straps to let you haul it like a backpack should circumstances warrant. Excellent! Fabulous for loaves of bread, wheels of cheese, bottle of wine/juice.
Vive le voyage!