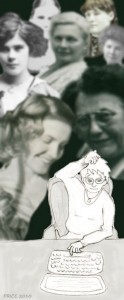 I think I finally outlasted my obsession with Energy Cards (though the home page is looking fine).
So I'm back to revising Grand Exits: Mary's Guide to Wising Up. Moving right along. I applied to have it published via Amazon's new Kindle Singles.
Today, Amazon is announcing that it will launch "Kindle Singles"–Kindle books that are twice the length of a New Yorker feature or as much as a few chapters of a typical book. Kindle Singles will have their own section in the Kindle Store and be priced much less than a typical book. Today's announcement is a call to serious writers, thinkers, scientists, business leaders, historians, politicians and publishers to join Amazon in making such works available to readers around the world.
Not sure why application is necessary since any monkey can publish her book on Kindle. Maybe they want to kick off with all the cool people (as opposed to the soft porn, formula romance and fan fiction that gravitates to any self-publishing venue these days). I told them my "literary novella" was definitely cool.