Finally sitting down to make concrete plans for our European train adventure in Jan-Feb 2011. Got the plane tickets. Got the Eurail Pass. Now what? Time to start digging for hotels and matching locations with train schedules. I'm an organized person, but the dark side is that I get so obsessed with efficiency that I flummox myself.
Anyway, I made hotel reservations for the first 6 nights (out of 33): Madrid, Bilbao and Barcelona — all in Spain.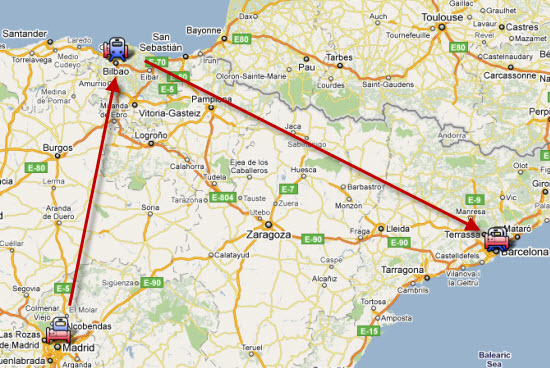 Got frustrated trying to use the inoperable reservation service for small boutique hotels and fell back on my old faithful Expedia.com. Those reservations get forwarded into TripIt.com. I have a bunch of iPhone apps that supposedly keep track of these — I guess you could say I'm auditioning them to see what's most foolproof and hassle-free.
Since we're potentially going to 9 countries and don't want to fill our suitcases with guide books, maps, and foreign language phrasebooks, I'm obsessing about what I can do online and download into my iPad (the computer I'll be taking with me) or print out in neat little packets. Lonely Planet has sweet city-map and phrasebook apps for the iPhone — but oooh I do love the secure feeling of paper.
I'm growling to learn that in addition to buying the expensive Global Eurail Pass, we have to pay again to make a reservation. What a scam. But you can't make train reservations more than 3 months in advance, so I have to wait a week or so to start that process. And I don't want my hotel reservations too far ahead of my train reservations, so I stalled out.
But am I going to nail down everything in advance? Tempting. But I love the idea of flexibility and "freedom" (even if delusional).
Meanwhile I went to Google Maps and found the hotels and train stations for the first 3 cities (above).
Part of me loves an adventure; part of me says we're crazy.