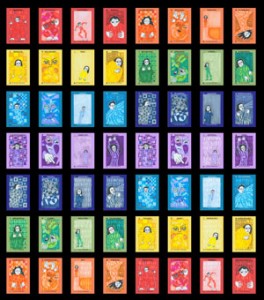 I'm still working on my "artist adventure" tarot-style cards, egged on by my real-life muse, Pat D. Today I re-drew 4 of them that were a little "off." More to do…
I keep thinking this spurt of card deck energy will burn itself out, but the energy just keeps pumping out. So… follow the disturbance.
Hay House is the mecca of inspirational card decks (and iPhone apps to accompany them). I'm amazed at the variety. Most are (of course) by people with psychic credentials collaborating with artists who design romance novel covers in between card-deck gigs. All I have is my craziness. (And my own wisdom.) The founder Louise Hay is a phenomenon: got her start giving hope to lecture halls full of AIDS sufferers in the 80's before there was any hope of medical management.
Anyway I note that to find card decks such as mine you need to include the search term oracle or divination. It reminds me that I'm way out of my element. I don't particularly subscribe to methods for communicating with Archangle Raphael, Law of Attraction, Animal Spirit Guides, Fairies, Astrological whatevers, Wisdom of Avalon or Ascended Masters.
On the other hand (being a Darwinist), I believe any random bit of wisdom can generate an interesting thought, which in turn can prompt a creative act. Grab what's at hand, be inspired, make it work. Bricolage.
Back to work…