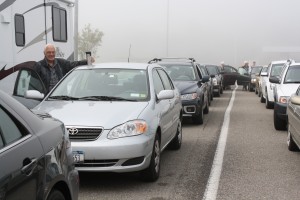 Today was really about the ferry ride between Saint John, New Brunswick and Digby, Nova Scotia. I'm not an accomplished ferry traveler, so there is always anxiety about schedules, getting in the right lines, following directions — along with the lunacy of there never being enough clear directions. It's one of those events where you seem to be the only one in a panic, while everyone else looks like they do it every day of the week.
So we had a bit of scrambling getting onto the ferry, then a lovely three-hour lay-about enjoying the ride, then another minor panic figuring out how to get back to our car at the end. After shimmying our way through bumper to bumper trucks and RVs, we discovered our car had been hoisted 20 feet overhead. WTF??? We ran around in circles trying to figure out the vehicle maze to get where we needed to be. Well, finally someone pointed the way and — whew! — we were back on the road.
The 65-mile drive down to Yarmouth was a breeze after that. Our hotel room is old-fashioned (windows that open and a fan instead of air conditionaing). It overlooks the harbor and we're listening to the seagulls and watching the fog roll in. Dinner of Nova Scotia seafood — chowder and scallops. Life is good.