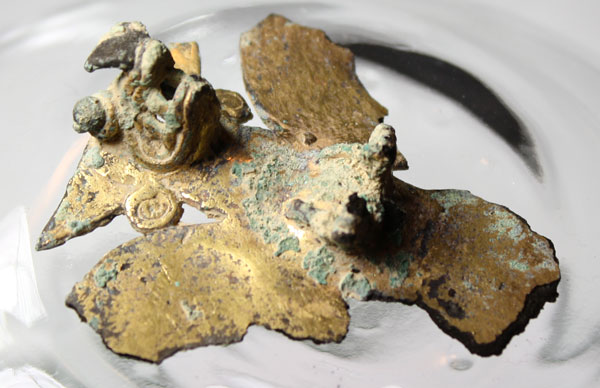 Maybe the muggy stormy weather electrified my brain. Every room is disrupted with "work in progress." A "little reorganizing" has led to our bedroom, Jim's study, and my studio being strewn with collectibles pulled from closets. The kitchen is set up for table-top photography*: white backdrop cloth, photo lamp, camera on tripod… and a hundred trips up and down stairs (where's my tape measure, clipboard, Sharpie…?). Because our place is small, it quickly becomes a 3-dimensional Tetris game. You can't move anything to where it "belongs" without moving something else first; but you can't move that till… Well, it goes on and on.
When not solving household puzzles, I've been glued to the audio version of "The Girl With The Dragon Tattoo," the international best-seller about secret violence under bland surfaces, in Sweden.
*From the closet: a 2-inch bat made of tumbago (a gold/copper alloy), from the Veraguas region of Panama, acquired when J visited in the 1960s.