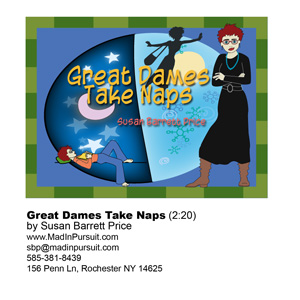 The Rochester/Finger Lakes Film and Video Office is looking for locally produced short videos and animations for a new "video wall" installation at the Rochester Airport. Lucky I opened the email before I hit the delete button. They are casting a broad net for "whatever you have… the sky's the limit!" — my kind of call to action.
I think I have four videos (plus an alternate version) that would fit the bill. They would accept Quicktime movies, but damn if I didn't have a brain cramp around how to burn data files to a DVD. Isn't there supposed to be a "burn" button? I know I've done it before.
So I decided what the hell I'll be an uber-professional and create five official DVDs. This meant blowing the dust off my Adobe Encore software. The first one (Tell!) went smooth as a Bombay gin on a hot summer day. Smiling. I went on to Be The Change. That's when all hell broke loose, with the software crashing, failing to load, etc. And of course the usual comedy of errors trying to find the right files on my disk. What I thought was going to be an intense hour turned into a day of muttering and magic incantations (the opposite of cursing, but sounding strangely the same) over my computer.
It wasn't till 9 PM last night that I finally got the pleasure of putting together a little art for the DVD cases. Overall, once the technofreaking was done with, I felt good about sending off my work* and started missing working in pictures and sound. (Of course, then I couldn't sleep because I was all wound up.)
*including Great Dames Take Naps, Jack Kerouac: Writing Lesson, and a version of Be The Change with a red background.