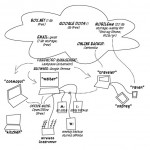 I know everyone will be super-excited to hear that I finally got file-sharing to work on my home network. For the moment.
I didn't really mean to spend hours of obsession over this. I had given up on file-sharing between WALTER* and TRAVELER**  months ago and was only trying to find the least obnoxious way of sharing project files via the cloud (aka the internet). But then I did obsess. And just when I was closing in on my elegant cloud strategy, my T: drive (TRAVELER) showed up again on WALTER. Eureka.
In the process, I documented all the software I use to keep me afloat in my activities of daily living. So FWIW I'm sharing>>>
*Desktop computer. Named after my grandfather Walter who was a master carpenter and problem-solver. My last computer was named after my other grandfather Ewald who was also a master technical problem-solver. I figure the two of them are good patron saints for computers. My father Walter (although he was fine athlete, with beautiful handwriting) was a technical klutz. Maybe my computer gets confused about which Walter to seek solutions from.
**Netbook