It's that time again to tip your hat to the neatest people you know!
To participate in the annual International Walter T Price Day, on April 19 contact someone you've been out of touch with for too long and tell them how great they are. Simple as that. No need for fanfare. It'll just be between you and Curly.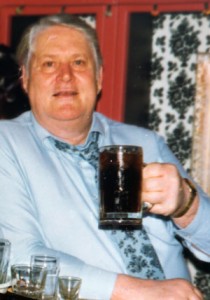 This annual ritual is a tribute to my dad, Walter T. "Curly" Price (1922-2005), who never forgot a face or name, who was impressed with the uniqueness of all people and who didn't hesitate to express his admiration for every one of them.
Simple as that. Hard as that.
Finding someone to tell them you remember how "really neat" they are is easier said than done. How many of us construct our life stories around disillusionment, shaking our heads at the idiots and rolling our eyes at those who abused our good natures? How few of us choose to remember exactly what was interesting and wonderful about every person we ever met? To me it feels like the secret of happiness.
So, April 19: call your old kindergarten friend, email that lab partner from chemistry class, jot a note to your grandma, text your kid. If you're sitting at a bar with a pal, turn to the stranger next to you and say, "Did you ever meet my friend here? She's the greatest…"
Spread the word. Invite everyone. I mean it.