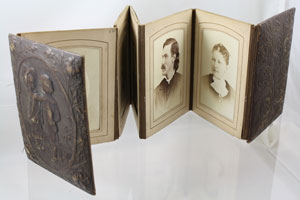 So I dragged all these old photo albums out of the closet. I have a rule that I can't pull stuff out, have a look, then put it away with no action taken. They were already pretty well labeled and Jim put his nihil obstat on selling them, so… next step, making little videos and taking photos to present them on Ebay.
It isn't exciting work. It's methodical. It makes me cranky (ask Jim). I think of Tom Sawyer:
Tom appeared on the sidewalk with a bucket of whitewash and a long-handled brush. He surveyed the fence, and all gladness left him and a deep melancholy settled down upon his spirit. Thirty yards of board fence nine feet high. Life to him seemed hollow, and existence but a burden. [Mark Twain, 1876]
Too bad I don't have a bunch of friends who would pay me for the thrill of seeing my antique albums and using my new camera. So I have to psyche myself into the process. Baby steps. Just clear off the space. Just set up the camera. Just get the lights right. Just do this one. Now do the next one. Just finish the videos. Now just set up for the stills. Ok, do one. Maybe two.
Before long, I have 21 videos done and 21 photos taken. Am I in a good mood yet?
It will take me the rest of the afternoon and then some to upload all the videos to YouTube. Meanwhile, I go for a walk along the creek — a glorious almost-spring break from studio work. (I uploaded a little iphone video to Facebook.)
Now all I have to do is describe each object in excruciating detail, including all the names in the albums and all the problems with condition. People look for old relatives in photos on ebay, so it pays to be meticulous. I mentioned before that a member of the Barrymore family recently bought an album of ours because it had a photo of one of her actor-ancestors. People who find something precious to them in our offerings does make the little bit of drudgery worth it. I have to admit.