Some people do vanity Googles on their name. I do it on my novel's ISBN.* And, baby, I may be having a quiet summer in cool clammy Rochester, but my book is everywhere!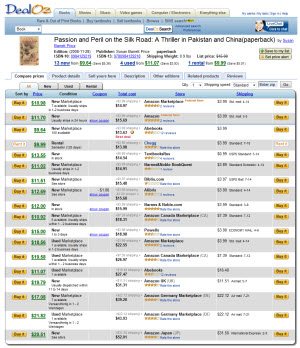 DealOz tells me that I'm available new in Germany and Japan, that I'm in stock at TextbooksRus, that I'm used at Abebooks, and that I'm for rent at Chegg. (What the hell is Chegg?) DealOz is cool because they've even collected my beautiful reviews from Amazon.
DirectTextbook gives me a similar picture — except where the heck is Japan!! Ah… here I am at the Kinokuniya Online BookWeb for 2,003 yen.
God, I love America… or maybe I should say, God, I love this global phantasm of an economy where your product appears to be fucking everywhere.
Please, no one ruin this illusion that I've created a pandemic of demand. Just tell me how I can get on the Colbert Report!!!
*International Standard Book Number, that barcode on the back of a book