Author! Author!
I sketched scenes for this novel during my own road trip through Central Asia. Jim and I endured landslides, village lockdowns, and cold-water shangri-las... bought ancient beads and carpets from refugees... survived being conned and being arrested. I discovered that traveling the borderline between wonder and insanity creates the most anxious characters and the most chilling plots.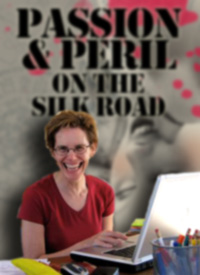 Like every girl in my generation, I dreamed of being Nancy Drew. And I achieved that dream. No, I didn't track criminals in my fabulous roadster, but, as a quality assurance leader, I did spend 24 years chasing down answers to poor quality of care and institutional neglect in services for troubled teens. With my team of energetic and loyal colleagues we innovated quality tracking methods in a field where everyone said it couldn't be done. Lotsa head-scratching detective work among the cobwebs of creaky institutions.
But, secretly, I longed to be the Nancy Drew author Carolyn Keene. I started writing my Nancy Drew knock-off at age 11, but apparently no one thought I was a prodigy, so better I should do my math homework and stick with a scholastic program that would get me into college. Ok. College, marriage, grad school, remarriage, career, career, career.
Age 40, bored with too many investigations boiling down to the "case of the missing paperwork," I returned to fiction. And I became one of those obsessed writers who woke up at 4 AM to squeeze in the day's harrowing adventures.
While homicide and jeopardy of homicide is a must for the thriller, my special interest became skullduggery in the international art and antiquities trade. Grave robbers. Smugglers. Fakers and poseurs. Dealers, collectors, archaeologists, museum directors – all with their fierce passions, their ethical dilemmas and their various flavors of righteousness. As a tireless collector of all things magical and marvelous, my second husband introduced me into this world. And so the journey began.
I've also been lucky enough to travel through parts of Europe, Asia and Latin America. Nearly all the locales in "Passion and Peril on the Silk Road" are based from notes taken during travels in Pakistan and western China.
I was born and raised in St. Louis, Missouri, I went to college in Chicago and have settled in Rochester, New York.
PAPERBACK
Amazon
KINDLE EDITION
Amazon
E-BOOK EDITIONS
Smashwords (multiple devices; available for iPhone via Stanza app)
Powell's Books, for Palm Reader and Adobe Digital Editions (incl. Sony Readers)
BooksOnBoard (EReader, Adobe Digital)